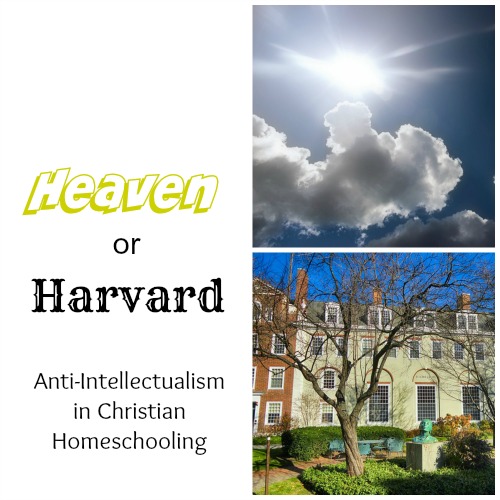 A few weeks ago, someone on Facebook posted a quote that went along the lines of "Raise your children for heaven, not Harvard."  I pondered the statement for a little while trying to grasp the logic in it.  No, it still didn't make sense.  It was like one of those pretty little sayings that sounded good, but didn't actually make sense.
This saying assumes that there is a choice between the two.  One must decide whether they want to focus their efforts on getting their child to heaven or into Harvard.  Really?   Is it not possible for a Harvard-bound child to have a personal relationship with Jesus?  This doesn't even consider the idea that parents can't really do either thing for their child anyway.
There seems to be a growing fear of education in the Christian homeschooling movement which is concerning to me since our job is to educate.  It is like many are afraid that their children will lose their faith if exposed to certain ideas.  Statistics are touted as reasons why children need to be grounded in certain ideas if they are to stay true to the faith.  As a result, science is often taught from a perspective that mixes science facts with apologetics.  Exposure to other beliefs and religions may be limited.  This could spell trouble for a child headed to college because the child may encounter Hindus, Muslims, or atheists who are superbly wonderful people to be around.  The child will encounter science topics that may present information that had not been covered and countered by the apologetic curriculum.  With all this going on, the child may question his faith.  Many in the Christian homeschooling movement devalue higher education for this very reason.
What is the reason for this loss of faith?  Is it education?  Is it knowledge?  Is it fear?  Fear is the opposite of faith.  When we fear education, we teach that to our children.  We teach them to be on guard for attacks on their faith whether this is from an atheist professor or information learned in class.  As Christians, should we be motivated by fear?
Instead, we should let our children encounter ideas and facts that may be troublesome to their faith while they are young.  Let them grow up thinking about things.  Let them grow up wondering about issues that may cause questions to arise.  Do that while you are there to provide guidance and help them through those difficult questions.
Apostle Paul was a very learned man.  As a result, he was well-equipped to travel around and share the Gospel with different groups of people.  He would have studied Greek, philosophy, as well as the Law and the Prophets.   I am reminded of the time that Paul was in Athens and was confronted by philosophers there as recorded in Acts 17.
22 Paul then stood up in the meeting of the Areopagus and said: "People of Athens! I see that in every way you are very religious. 23 For as I walked around and looked carefully at your objects of worship, I even found an altar with this inscription: to an unknown god. So you are ignorant of the very thing you worship—and this is what I am going to proclaim to you.
Paul knew about Greek gods.  He knew the culture.  His education allowed him to connect with the people there and share the Gospel.
Christianity is about a relationship with Jesus Christ.   As a Christian homeschooler, I place high value on helping my children develop a strong relationship with Jesus Christ.  In their life they will encounter many trials.  They will have questions.  They will have doubts.  It is during that time that a strong relationship with Jesus Christ will make all the difference.  It is a relationship that is important.  It shouldn't be about shielding the child from different perspectives and making sure the child is grounded in a certain belief system.
We needn't fear knowledge.  We needn't fear education.  Children can grow up strong in the faith and strong in their education.  They can go hand in hand and a child who grows up wondering and questioning can be very highly prepared for the future.
So, how do we do it in our homeschool?  I try to keep these things important:
Fostering a relationship with Jesus Christ.
Teaching my children to question things and wonder.  Also, logic and philosophy are formally taught.
Teaching my children about people who believe differently as well as those who don't believe in any higher power.
Teaching pure science without any Christian interpretation mixed in.
I place a high value on education because we are Christian.  I want my children to be knowledgeable about the world.  They are learning different languages and appreciating other cultures so they will be able to connect and communicate with those who are different from them.   They are exploring ideas about origins and making up their own mind.  Discussion is very important in our homeschool.  We talk about different ideas and wonder through things.  We also realize that some things don't have answers right now.  I teach them to have an open mind about things that aren't essential Christian doctrine.
I can't make my child have a relationship with Jesus Christ.  I can't get my child into Harvard.  But I can foster a love for Jesus and a love for learning.  Education is a beautiful thing.