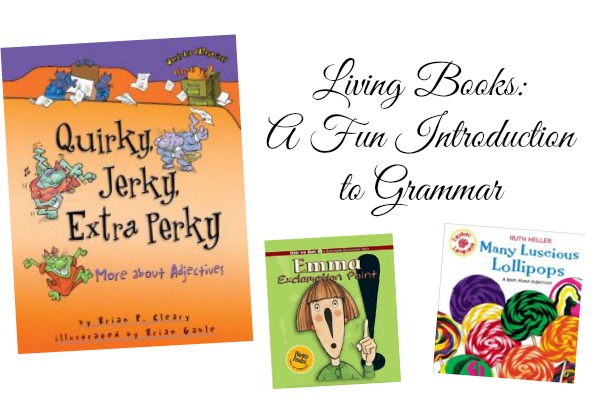 When my son was in second grade, I discovered some living grammar books at my local library.   As a first grader he was introduced to grammatical terms through Mad Libs which was very much enjoyed.  These books were an excellent tool that allowed me to further introduce him to grammar in a visually-pleasing way.  The fun books are full of colorful pictures and interesting text.  I find that living books tend make subjects more interesting and fun.
I've separated out the different books into the topics. If you click on a book it will take you to Amazon where you can find the isbn, author, and any other necessary information you need to find the book at your local library.
Nouns
A Mink, a Fink, a Skating Rink: What Is a Noun?
A Lime, a Mime, a Pool of Slime: More About Nouns
Pronouns
I And You And Don't Forget Who: What Is a Pronoun?
If You Were a Pronoun
Adjectives
Hairy, Scary, Ordinary: What Is an Adjective?
Many Luscious Lollipops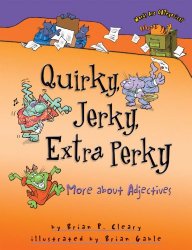 Quirky, Jerky, Extra Perky: More About Adjectives
Prepositions

Under, Over, by the Clover: What Is a Preposition?
If You Were a Preposition
Verbs

Slide and Slurp, Scratch and Burp: More about Verbs
To Root to Toot to Parachute: What Is a Verb
Adverbs
Dearly, Nearly, Insincerely: What Is An Adverb?
Lazily, Crazily, Just a Bit Nasally: More About Adverbs
Conjunctions

If You Were a Conjunction
Interjections

Fantastic! Wow! and Unreal!: A Book About Interjections and Conjunctions
Punctuation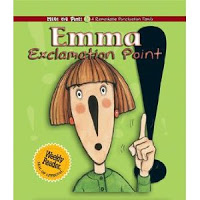 Emma Exclamation Point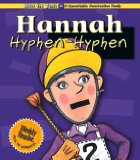 Hannah Hyphen

Alan Apostrophe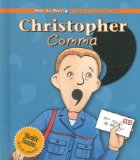 Christopher Comma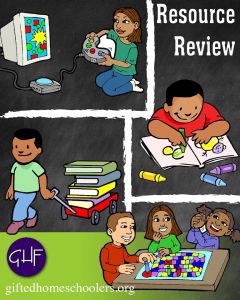 Looking for recommended resources for homeschooling?  Be sure to check out Gifted Homeschoolers Forum for a list of recommended resources.