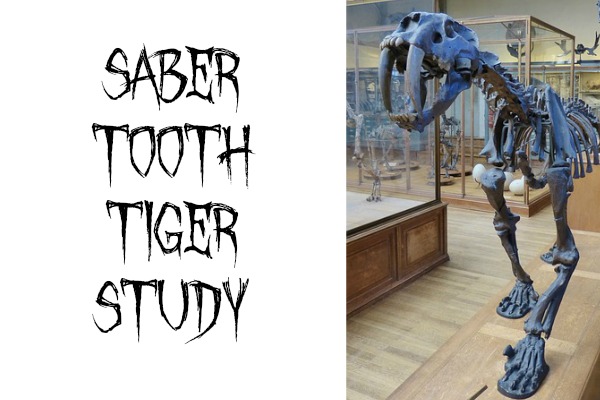 A study of prehistory wouldn't be complete without looking at saber tooth tigers. As part of our study we read The First Dog
. The First Dog
is a story about a boy and a wolf. In the story he encounters many creatures from his era. The book is full of well drawn pictures and will be sure to capture the attention of preschoolers through elementary age students.
We also visited YouTube and watched several videos on saber tooth tigers.
We also stopped off at http://www.museum.state.il.us/exhibits/larson/smilodon.html to read more about them.
To finish off our study we made a simple saber tooth tiger cake. I basically took a circular cake and cut it a little to shape it and put some of the cut off cake on the head to look like ears. The teeth were made from marshmallows and plastic cutlery. We didn't go get anything special so we searched the kitchen for something that would work. For eyes we found some gummy lifesaver candy. For the stripes we melted some chocolate chips and put them on the cake. The nose was made out of unmelted chocolate chips. It was fun to make and my kids enjoyed eating it.