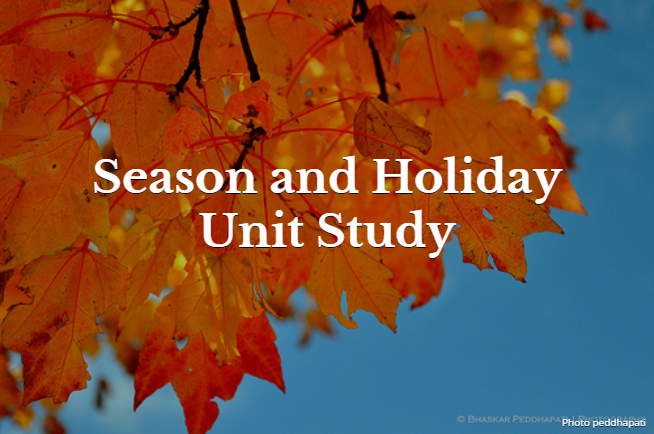 I put together this unit study for my craft-loving little girl who will be in K4 this year.
September – Fall
Books:
Pick a Perfect Pumpkin:  Learning about Pumpkin Harvests
Apples, Apples, Everywhere
How Do You Know It's Fall?
Autumn:  An Alphabet Acrostic
Too Many Pumpkins
Why Do Leaves Change Color?
The Little Yellow Leaf
Leaves by Stein
Apple Picking Time
Activities:
Rake and jump in leaves
Collect 5 different kinds of leaves and do leaf rubbing craft
Field trip to pick apples and a pumpkin.  Hayride and corn maze.  Late Sept.
Crafts:
October – Thanksgiving
Books:
Over the River and Through the Woods
Thanksgiving Day – Gibbons
We Gather Together:  Celebrating the Harvest Season
Thanksgiving Day – Rissman
Activities:
Go to Fair
Thankful running
Make an apple pie
Crafts:
November – Native Americans
Books:
Boat Ride with Lillian Two Blossom
Dream Wolf – Goble
Dreamcatcher – Osofsky
Grandfather Four Winds and Rising Moon – Chanin
Firedancers – Waboose
Buffalo Dreams – Doner
A Small, Small Tale from the Far, Far North
The Girl Who Loved Wild Horses
Home of the Brave – Say
Long Night Moon – Rylant
Little Runner of the Longhouse
Soft Step and Bright Eyes
Activities:
Prepare Fry Bread
Native American Feast with foot races
Crafts:
December – Christmas
Books:
The Year of the Perfect Christmas Tree
Bright Christmas:  An Angel Remembers
The Little Crooked Christmas Tree
The Christmas Miracle of Jonathan Toomey
Danny and the Kings
The Christmas Tree Tangle
The Little Boy's Christmas Gift
The Finest Christmas Tree
A Pussycat's Christmas
One Splendid Tree
Sleeping Moon
The Little Fir Tree
The Christmas Boot
Night Tree
Carl's Christmas
A Moose in a Maple Tree:  The All Canadian 12 Days of Christmas
An Early American Christmas
The Silver Whistle
Keeping a Christmas Secret
Carl's Christmas
Activities:
Decorate the house for Christmas
Make Christmas cookies
Make a Gingerbread House
Advent Calender
Make Peanut Blossoms
Crafts:
Holiday Glow pg 10 Month-by-Month Arts and Crafts
Straw Reindeer ornament pg 15 Month-by-Month Arts and Crafts
Artful ornament pg 19 Month-by-Month Arts and Crafts
Make candy cane with pattern and glue on cotton balls and red tissue paper (Holiday and Seasonal Patterns)
Make button wreath ornament with brothers http://www.marthastewart.com/268828/button-wreath-ornament(need buttons and wire)
January – Winter
Books:
When Winter Comes
Singing Away the Dark
First Snow in the Woods:  A Photographic Fantasy
No Two Alike
White Snow, Bright Snow
Brrr!
White Wonderful Winter
When Will It Snow?
In the Snow:  Who's Been Here?
Flannel Kisses
A Little Bit of Winter
Snow – Stojic
Gooseberry Goose
Three Pebbles and a Song
Frederick
It's Winter – Glaser
Under My Hood I Have a Hat – Kuskin
Now It is Winter – Spinelli
Mouse's First Snow
Sleep, Black Bear, Sleep
Activities:
Make colored frozen balls out of balloons filled with colored water and frozen.
Make a snowman
Crafts:
February – Valentines
Books:
Fancy Nancy Heart to Heart
Pink of Hearts
The Great Valentine's Day Balloon Race
Little Mouse's Big Valentine
Valentine – Carrick
A Valentine for Norman Noggs
Mouse's First Valentine
The Day it Rained Hearts
A Charlie Brown Valentine
The Valentine Bears
Emily's Valentine Party
Queen of Hearts
Be Mine, Be Mine, Sweet Valentine
Dear Bunny
Love, Ruby Valentine
The Very Special Valentine
Activities:
Host a Valentine's Day Luncheon.   Plan menu, go shopping, and prepare the luncheon.
Make Peppermint Patty hearts.  Wrap in tin foil and decorate with stickers.
Crafts:
March – Easter
Books:
Bible story books on Jesus
The Legend of the Three Trees
The Donkey's Dream
They Followed a Bright Star
Cat in the Manger
The Fourth King
Activities:
Crafts:
April – Spring
Books:
And Then It's Spring
My Spring Robin
Sarah Bear and Sweet Sidney
The Winter Wren
Come to the Meadow
Spring Song
Rabbit's Good News
Mud – Ray
Spring's Sprung
Cold Little Duck, Duck, Duck
Hopper Hunts for Spring
Wake Up, It's Spring
Winnie-the-Pooh's Book of Spring
Hurray for Spring
Pooh's Favorite Things about Spring
Spring Fever – Weigelt
Groundhog Weather School
Who's Awake in Spring
Activities:
Hide plastic eggs in backyard for brothers to find.
Plant flowers
Dye eggs.
Make an earthworm cake.
Crafts:
May – Canada
Book:
The True Story of Trapper Jack's Left Big Toe
The Sugaring-Off Party
Pictures from Our Vacation
One is Canada
Eh to Zed?  A Canadian Abededarium
I am Canada – Patterson
Canada ABCs:  A Book about the People and Places of Canada
Oh Canada – Ghione
Eeeny Meenie Manitoba
See Saw Saskatchewan
The Gift of the Inuksuk
The Girl Who Wanted a Song
The Sakura Tree
The Polar Bear's Gift
Northern Lights:  The Soccer Trails
The Chinese Violin
What is the Most Beautiful Think You Know about Horses?
From Far and Wide:  A Canadian Citizen Scrapbook
The Day I Became a Canadian:  A Citizen Scrapbook
The Kid Line
Shi-Shi-Etko
Shin-chi's Canoe
Activities:
Crafts:
June – Summer
Books:
Sun Up – Tresselt
Simon in Summer
Around the Pond:  Who's Been Here?
Haircuts at Sleepy Sam's
Come On, Rain
One Hot Summer Day
Summer's Vacation
Summertime in the Big Woods
Hot Day on Abbott Avenue
Summer Dreams – Newby
Feel the Summer – Thomson
Mayfly
When the Fireflies Come
Katie Discovers Summer
Hooray for Summer
Mama, Is it Summer Yet?
Activities/Crafts: