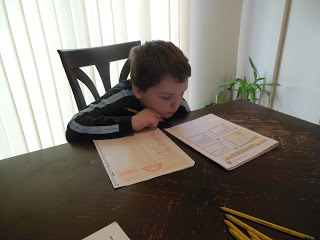 This week we are completing standardized testing.  Homeschoolers have many different options when it comes to standardized testing.  Personally, I prefer the Stanford Achievement Test and the Iowa Test of Basic Skills.  These are US-based tests.
I chose the Stanford for a second time.  I like the detailed reports and the fact that the test is untimed.  Because it is untimed I can get a good idea of skills without added time pressure.  I purchase the tests through BJU Press Testing and Evaluation and I love that they ship internationally.  It is relatively painless to be able to be certified to give the tests.  They require you to have a college degree and some video training.  The video training can be skipped if you happen to have training or experience with standardized testing.
The Stanford covers: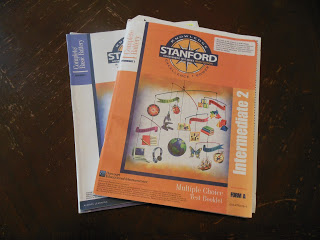 Word study skills
Reading skills/ comprehension
Vocabulary
Mathematics
Language
Spelling
Social studies
Science
Listening
Some of the subtests vary depending on the level of test.  Even though my kids don't live in the US and we haven't done much with US history yet, I do give them the social studies subtest.  It gives me an idea of what they have picked up informally and what they haven't learned yet.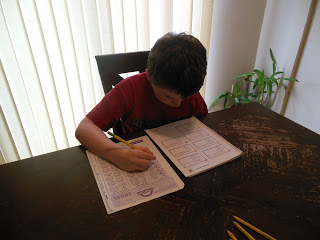 We live in a place that doesn't require any testing.  There is no one who checks up on what we are doing either.  I give the tests for several reasons.  First, it is the only "official" record that I have to show that my kids are learning and progressing.  Secondly, it is a way to get an unbiased eye into what they know or don't know.  Because of that it helps me make adjustments to what or how we are learning. Finally, testing is good practice for my kids.  Public and private schools have lots of testing going on.  Not only do they test, but some schools spend a lot of school time preparing to take the tests.  I say this because I worked at a poorer school in Texas many years ago and a good portion of their school year was spent learning concepts that would be on the test.  Testing once a year isn't much and the practice with the test format helps them prepare for the many tests in the high school years.
Test days are rather light days for my boys so they enjoy it.  We have Bible time and then the boys rotate through most of the day.  While one child is testing the other one is downstairs playing quietly with the job of doing anything he wants as long as he and his sister stay quiet.  We have a mid-day exercise time and at the end of the school day we are likely to do some science activity together and then they have an hour of time to learn about anything they want.