Words are fun, but words in other languages are even more fun!  This post is part of the Virtual Curriculum Fair: Playing with Words series.  Check out the links at the bottom of this post to read how others play with words.
I've heard from many different people that it is foolish to attempt to teach foreign language when you don't speak it yourself.  While not ideal, it is something that can be done if you are committed to it.  Obviously, access to a native speaker or a tutor would be a great way to get started.  If you don't have access to a native speaker right way, you can still get started.
Get started with foreign language by doing these three things:
1.  Have your child watch DVDs and online videos to immerse your child in the language.
I believe that hearing the language spoken is the best way to get started.  As a parent who is monolingual, I utilize DVDs and online videos to immerse my kids.  Watch videos in the target language at least 5 times a week.  Pick a favorite show and find it in your target language.  I've been surprised what I've been able to find on Youtube.
One of the languages we are learning is Arabic.  The sounds of Arabic are quite different than English.  Exposing a child to the language helps build up their sound system so they can begin to hear the differences between sounds.  For instance, the Arabic language has two different sounds that we would interpret at T in English, but in Arabic they are two sounds made at different spots in the mouth.  Listening to the sounds of the language helps a child learn to hear those differences as well as develop an ear for the rhythm of the language.
For Arabic, my children enjoy watching Arabian Sinbad.  While we watch other shows in Arabic, this one teaches vocabulary while helping your child develop an ear for the sounds of Arabic.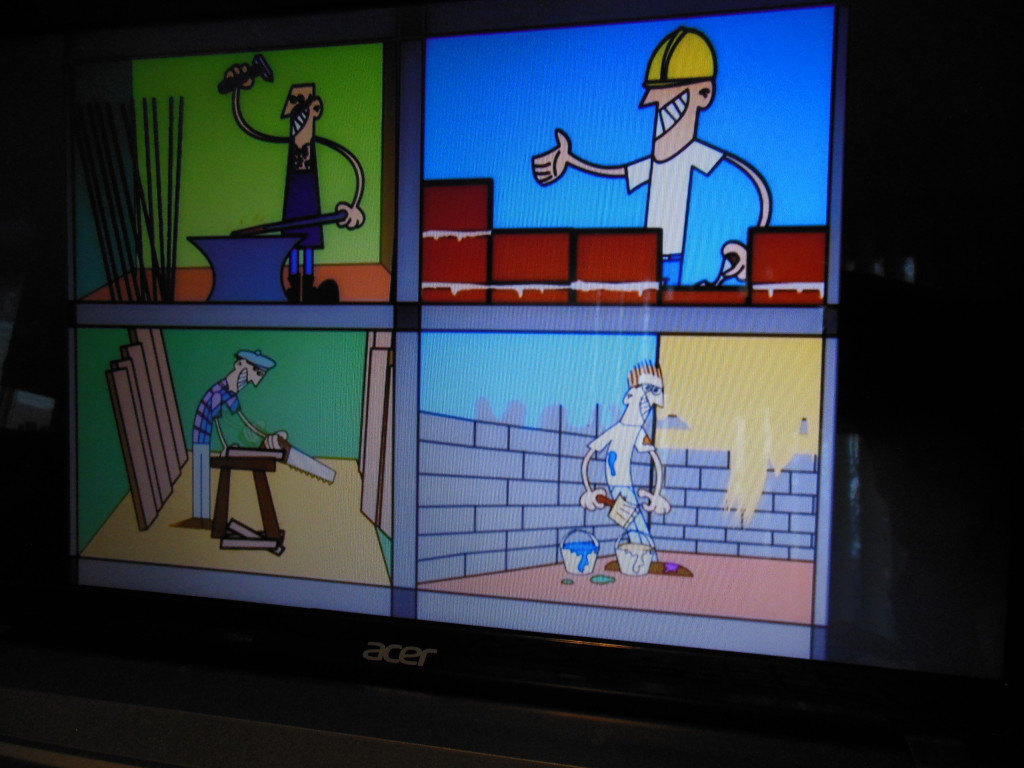 2.  Play Games
Have your child play games in the target language.  Chances are if you are reading this, you have access to a computer or iPad.  Do a Google search for online games in the target language or search out the app store.  Many games will teach basic vocabulary in a way that is fun for your child.  A favorite Arabic app in our household is the Arabiah app.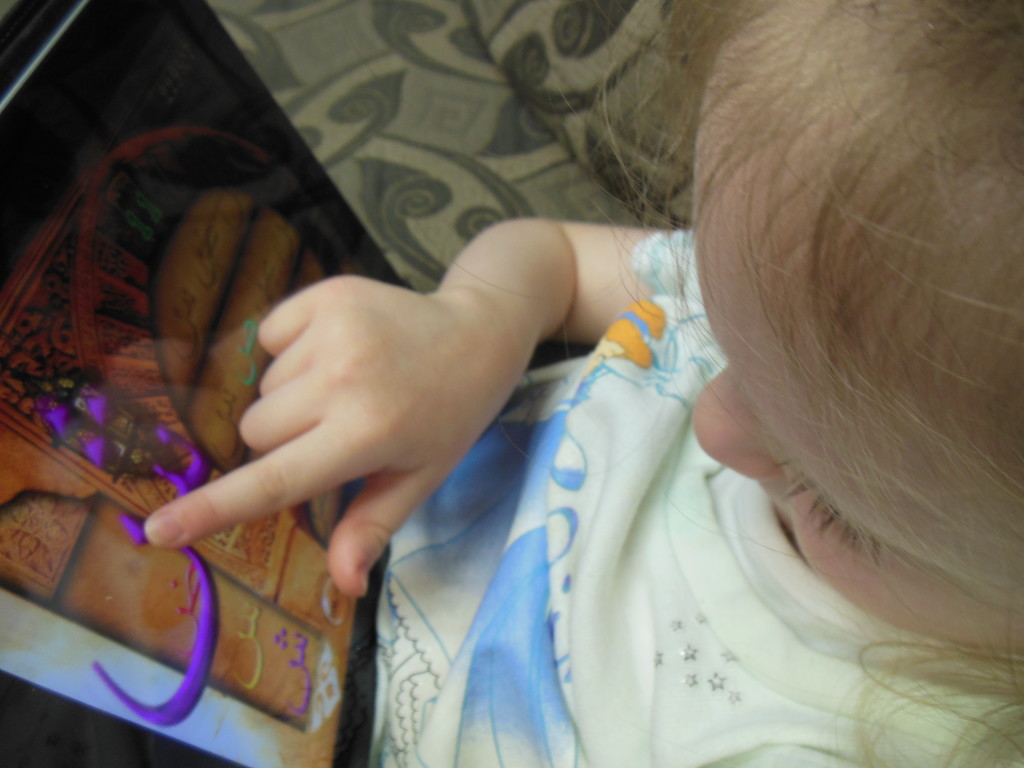 3.  Learn the alphabet
Youtube is a great resource for videos.  If your child is comfortable with reading in English or if the foreign language has totally different letters than English, you can watch and sing along with alphabet songs on Youtube.
Once the young child has spent a year or two on immersion into the sounds of the language, playing games, and learning the alphabet, I like to start on a formal curriculum.  As a monolingual parent, I've found that materials designed to be used for children are not a good fit.  Most children's materials, ones designed for homeschool use excluded, are meant to be used by teachers who are native speakers.  As a result, I've opted to go with college textbooks.  Sounds unreasonable, right?   I've used college textbooks with young children, but I've just used them as something to teach out of while making the activities age-appropriate.
College textbooks are written to an English speaking student that is expected to put in a lot of independent study time.  As a result, audio and video resources are abundant.  Children's texts may contain very little English as well as minimal explanations of grammar, vocabulary, sentence structure, or other concepts.  College texts do a great job at explaining things so that I can teach my children.  As my children have grown, they have been able to do some of the activities in the textbooks independently.
I've also found that using resources like Rosetta Stone or materials available in a smattering of languages aren't the best choice.  They tend to utilize the same approach for all languages.  Languages are quite different and the way to best learn them, in my opinion, is by using curriculum that is only available for your target language.
I've liked Alif Baa as a curriculum to teach my children how to read and write Arabic.  It trains their ears to hear the sounds and gives them practice reading and writing.   My oldest child, currently in 6th grade, has just started using the Arabic for Life textbook  which briefly covers reading and writing at the beginning portion of the book before delving into teaching the Arabic language and culture.
At some point in your journey, your child will need access to a native speaker to continue to develop language skills.  We are using a tutor for Mandarin now and have been told by the tutor as well as an Arabic teacher that our pronunciation was good.  At times it felt like we were spinning our wheels because the early years involve lots of input without much output, but during that time you are building up your child's sound system so that they will be able to pronounce the language better.  It is helpful to remember that infants hear language for quite some time before they start to speak it.
Foreign language may be difficult to do in your homeschool if you don't speak the language, but it is doable if you are committed to the process.  It takes time and effort and you will need to learn along with your children, but it can be done.
Check out our other posts on Arabic, Mandarin, French, and ancient Greek.
Don't forget to visit other blogs in the Virtual Curriculum Fair to see how they play with words.
3 Reasons to Read to Your Teens by Susan @ Homeschooling Hearts & Minds
Language Arts {Virtual Curriculum Fair} by Chareen @ Every Bed of Roses
A Classical Take on 6th Grade Language Arts by Christy @ Unexpected Homeschool
The Power in a Word by Michele@ Family, Faith and Fridays
The Latin Road to English Grammar Volume 1 by Kristi K. @ The Potter's Hand Academy
These are the words we say by Christa @ Fairfield Corner Academy
A Peek into our Homeschool: Language Arts by Brittney @ Mom's Heart
Our Curriculum Choices 2014 ~ English by Renata~Sunnyside Farm Fun
Virtual Curriculum Fair: A World of Words by Joelle @ Homeschooling for His Glory
It Starts with the Alphabet by Kristen @ Sunrise to Sunset
Playing w/ Words-Charlotte Mason Style by Lynn P @ Ladybug Chronicles
2014 Virtual Curriculum Fair ~ Playing with Words: the Language Arts by Jennifer @ a glimpse of our life
Our PreK-1st Grade Language Arts Mix by Tauna @ Proverbial Homemaker
Fun (or Not) With Spelling by Nicole @ Schooling in the Sun
Word Nerd Love by Lisa N@Golden Grasses
Our Favourite Resources For Teaching Elementary Language Arts by Kim @ Homestead Acres
Unconventional Reading Lessons While Homeschooling by Lori@My Journeys Through Life
My Favorite Writing Curriculum for our Boys by Monique @Living Life and Learning
Virtual Curriculum Fair: Playing With Words – Language Arts  by Stacie @Super Mommy To The Rescue
Fun With the Language Arts by Mary @ Winecup Christian Homeschool
Our Grammar Path by Laura @ Four Little Penguins
Virtual Curriculum Fair !!! by Jessica @ Modest Mama
Creating a High School English Course (or two) by Debra @Footprints in the Butter
Language Arts in Our Homeschool This Year by Laura @ Day by Day in Our World