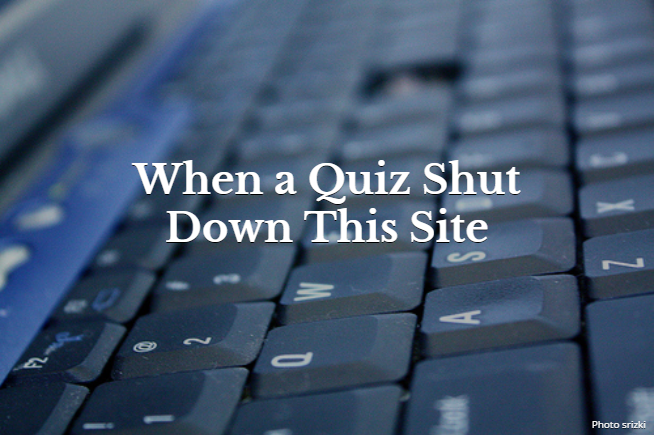 If you have recently taken the What Kind of Homeschooler Are You quiz, you are not alone.  In the first 36 hours 25,000 quizzes were submitted.  There were periods where 200-400 people were online completing the quiz at one time!
As traffic surged, so did errors.  Although I had unlimited bandwidth on my account, my web host, HostGator, didn't go by the dictionary definition of unlimited.  Their definition is not using too much and I received multiple warnings that I was using too much and to do something about it.
You really get to know a company when problems arise.  It is what they do when the chips are down that define them.  I learned that HostGator and viral posts do not go together.  Even though I had been with HostGator for over 6 years, I had to kick them to the curb.  Why?
I contacted them 5 times before the shutdown.  There were tons of errors on the site and many people were having issues.  They were aware of the viral post and had me start with CloudFlare, use caching, assess the load of certin plugins on WordPress, etc.  I did as suggested and was reassured by one individual that with the cache setting they had set up, things would be fine.
The cache settings had things in a bit of hot water when I needed to make changes to the quiz.  The Charlotte Mason category had an error in the code that didn't allow it to tabulate correctly.  I made the change, but visitors to the website were seeing the cached version.  When they completed the quiz, it tabulated everything as 0.  I contacted support at HostGator yet again and they had me disable cache settings because they said it was eating up bandwidth.
After I made the changes, bandwidth started to go down even though traffic did not.  I was happy that it appeared as though this situation was finally resolving.  Not so…
A short while later HostGator took down all of my sites.
Apparently, the only way to get this issue resolved was to open a ticket for an administrator.  I did and I waited.  6 hours later…nothing.
I contacted support again and had to be pretty tenacioius to get an admin to look at the issue.  I invested hours of time attempting to get help.  I was allowed back on after those 6 hours to make a few more changes.  I replied back to the admin within minutes of the changes made and….crickets.  8 hours of crickets.
The next day after an hour on chat support, they finally got an admin to look at the issue.  But they didn't want to.  They wanted me to wait in a long cue because they didn't have enough staff and were working on hiring new people.  I had to head out to a doctor's appointment and with over an hour invested in this support conversation and an admin finally looking at the issue, I didn't want to try back later or accept their constant attempt to say goodbye where they would tell me that someone would look at the issue soon.  So, my 13 year old came to the rescue.  I left it in his hands and told him to be tenacious and not let them leave until the issue was fixed.  He called me once for advice, but stuck with the chat for me until the site was back online.
Meanwhile, I had begun the process of switching to a new web host that is more adaptable for high traffic.  But there were backup issues that required HostGator to do something.  Support at Hostgator said they couldn't do it and that I needed to speak with an administrator on a ticket.  I attempted to get this looked at sooner, but I still haven't heard a thing and it has been close to 2 days.
My new web host, A Small Orange, problem solved with me, spending a bunch of time on their dime.  They figured out a way to get my files transferred without HostGator fixing the backup issues.
Once I transferred over to A Small Orange, there were further issues with how things were set up causing the website to be down for hours.  As I mentioned before, it is when problems arise that you really get to know what makes up a company.  I contacted support at A Small Orange for help and an administrator looked at the issue right away.   When more problems arose, the same thing happened.  The issue was looked at quickly until it was completely resolved.
Blogger Advice
If you are a blogger, switch from HostGator before you have an issue.  It isn't easy to switch in the middle of a difficulty and I wouldn't want anyone to attempt to get assistance through their support.
Go with a web host that actually states the limits rather than a vague unlimited that really means nothing to do with unlimited.  Things don't have to cost more either.  My new host is the same price, but I'm getting tons more bandwidth.  It is funny how my limited bandwidth amount gives me tons more than my unlimited account with HostGator.
My issues with backing up my information on HostGator's unlimited space account also came about because my disc space was too large.  My new host was able to help me reduce disc space on HostGator so my files could be transferred without costing me extra.  When I asked HostGator's help in backing up my files, the answer was:  I can't.  I tried.  Let me start a ticket.  HostGator's ticket is still sitting there 2 days later, unanswered.
On a Positive Note
I'm grateful that my 13 year old was able to get a big life lesson.  Having to deal with a difficult company will happen many times in his life.  I'm happy that he learned that being persistent sometimes pays off.
My site has been saving data from the completed quizzes so there is now a huge data set.  I think analyzing the data could be interesting.  What would you most like to know?  Please share in the comments.