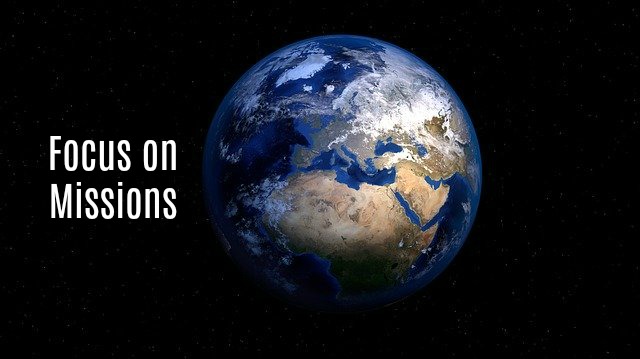 This school year we are learning about missions. We are learning the importance of missions, the different roles involved in missions, learning Bible texts related to missions, and reading stories of great missionaries. I am using several resources that I pieced together in order to make a cohesive study on missions.
The main resource I am using is the God's Got Stuff to Do curriculum from Pioneer. It covers the different ways a child can take part in global missions such as praying, going, or giving. I'm also utilizing the InfoBytes CD for some extra video snippets that give mission facts in an interesting way. I've also searched out some interesting Youtube videos on children of missionaries. We are also reading through Window on the World learning about the different people groups. Pioneer has handy prayer cards made for kids that teach your children a few facts about children in different people groups.
For missionaries we are reading chapter books about missionaries to Asia. I've focused on Asia to correlate with our geography studies on Asia this year.
We are also covering Bible stories and learning about God through another reading of The Jesus Storybook Bible: Every Story Whispers His Name. I love that Bible storybook. We have read it every year for several years now.
We are using part of the I Want to Know: About God, Jesus, The Bible and Prayer book by Zonderkidz as well. It covers different aspects of God in short two page lessons. For instance it covers topics like God is Real, He Made Us, Results of the Fall, Jesus Saves Us, and What is God Like under the God section. Under the portion of the book labeled I Want to Know about Jesus it covers Jesus' life from birth to resurrection to now. The Bible section covers how the Bible came to be and talks about its accuracy. The Prayer section covers topics like Prayer is Communication, Built for Prayer, God's Will, How and Where to Pray, Listening to God and more. This book also has fill-in and multiple choice questions for your child to complete if you so choose.
Today we did a portion of the God's Got Stuff to Do curriculum.  The kids learned about the 10/40 window and what types of religions live in that area of the world.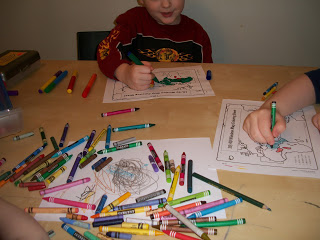 Notice the big crayon mess with a few scribbles hidden underneath.  The 2 year old joined the older two at the table and had fun with crayons and markers.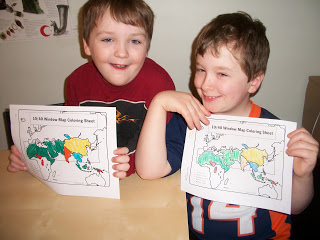 The kids with their finished color by number pictures.  It was a great learning activity.  As one child was filling it out he was surprised at how large the area was for Muslims.  
Our study this year is quite varied so days are quite different. Today we colored a page on the 10/40 window and did a two page lesson about how God is real. Tomorrow we should read more about Jonathan Goforth and look at how we can pray for the lost. The day after that we should look in depth at Afghanistan using Window on the World and read more about Jonathan Goforth. The next day we will spend time listening to praise and worship music and then do some memory work. You get the idea. Every day is a little different and that seems to be working well for us right now.