Learning different languages is an important part of our approach to homeschooling.  In North America it is typically considered unusual to spend much time learning more than one foreign language, but in other parts of the globe multiple languages are normal and expected.   Mandarin is a language we have been slowly learning for several years now.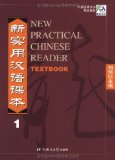 Last school year I made the switch to the New Practical Chinese Reader
.  I like that it covers conversation, writing, reading, listening, grammar, and phonics.  We were using Better Chinese's My First Chinese Reader and my kids made quite a bit of progress with reading Chinese and memorizing characters, but the program was mostly designed to be used in a classroom setting with a native speaker.  Even though I had the English teacher's manual there were times where I had to puzzle out what something meant.  It was also a costly option in the long-run.  We also had to supplement with tone-drills because it didn't help train your ears to hear the sounds of Mandarin.  The New Practical Chinese Reader is designed to be a college textbook for beginners.  I am fond of using college textbooks for foreign language because they usually have great audio support and more explanations in English.  I found this to be true with the New Practical Chinese Reader too.  I had no problem using this with my 3rd grader last year.  I am using Better Chinese's My First Chinese Words with my youngest and I really like that program for her.
When we work on Mandarin, I work one-on-one with each child, typically.  The textbook provides organization for me to help structure my child's learning.  I may not know Mandarin, but I listen to make sure my child's tones match the correct tones and that they are writing the characters in the correct stroke order.  I engage in conversations with them based on the text.  I use the model conversations to practice conversation and we play different parts.  Here is a chapter that my son is currently learning.  The lesson conversations are also on Youtube.
We work to mastery so if my child has trouble on a concept or trouble remember the stroke order for the characters in the chapter we stay put until it is mastered.
I have a little bit of a background in accent reduction.  In graduate school for Speech-Language Pathology my area of focus was on accent reduction and I enjoyed working with students from China and Russia to help them learn to hear and pronounce the sounds of English.  Because of that background, I have placed great emphasis on developing my children's ability to hear the sounds of Mandarin.  It is difficult to say something correctly when you can't hear the difference.  My kids watch Mandarin cartoons nearly every school day.  We have also placed great emphasis on hearing the differences between the tones and have done tone drill after tone drill.  I started Mandarin at a young age with exposure starting in the preschool years or younger.  My youngest child has been around some Mandarin her entire life.  When she was small she would enjoy pretending to talk in Mandarin, imitating the rhythm of the language.
The New Practical Chinese Reader has been a good fit for us.  We are progressing slowly and I expect this journey will be a long one with much work along the way.  I don't know how proficient my children will be when they are grown, but they will at least have a good head start toward fluency.  But most of all, they will have a way to connect with over a billion Mandarin speakers in the world.  We also seek to have our children see the world through borderless eyes and learning a language is a great way to understand a culture different from your own.
We recently expanded our studies to include a tutor.  We found an international student at a local university who only came from China 5 months ago.  We are meeting with her about once a month to get her help with conversation and pronunciation as well as another other issues that arise.  Although we have been studying for years, this is our first connection with a native speaker.  I was pleased to find out that their tone production is pretty good.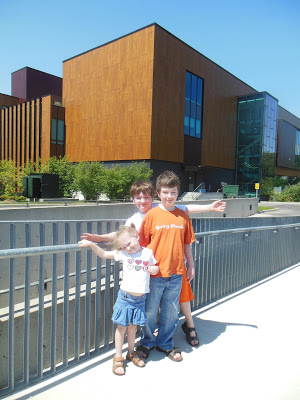 Waiting to meet the tutor.