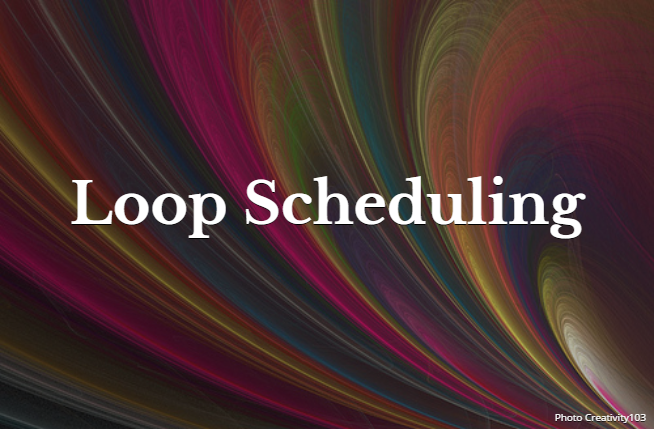 Loop scheduling has become a mainstay in our homeschool.  To keep things fresh and interesting, I often change how our school days are organized every month or two.  Sometimes we only use loop scheduling and sometimes loops are part of the mix.
Loop schedules are pretty easy to use and keep up with each day.  It requires you to set up a list of subjects or resources.  Once the list is finished, you loop back up to the top.  Typically, a certain amount of time is set aside to work on the loop and once the time is up you call it quits.  Then the next day you pick back up where you left off on the loop.
Using a loop schedule is a great way to fit in all of those things that you never seem to have time to do.  It is also a necessary element for our homeschool because I like to use lots of different resources and a loop schedule keeps things organized.
Different ways to use a loop schedule:
Loop all of your subjects.
Put all of the subjects in a list.  Decide on a reasonable amount of time to spend working on the loop during the school day.  Start at the top of the list and make your way down the list.  Once you get to the bottom of the list, loop back up to the top.  One thing I love about this set-up is that it is easy to allow for tangents because a child can spend extra time on a subject without throwing anything else off.
Put all the subjects on the loop with the more important subjects appearing more often and the every once in a while subjects only getting on there once.  Here is a sample of a loop where a child does math, phonics, reading, history, spelling, handwriting, and art with art being a subject that isn't an everyday subject.   We like every day to be different so sometimes I randomize the list when we are done so it makes every day unique.
Math
Phonics
Reading
History
Spelling
Handwriting
Math
Phonics
Reading
History
Spelling
Handwriting
Math
Phonics
Reading
History
Spelling
Handwriting
Art
Loop some of the subjects
Another way to do a loop is to set aside subjects that you need to get to everyday and put everything else on a loop.  So if the daily necessary subjects are math, handwriting, and reading, those would not be on the loop.  You would start the loop after those subjects are completed.  I like doing it this way because I can add in lots of extras while still getting to the necessary things everyday.
Phonics
History
Spelling
Phonics
History
Spelling
Phonics
History
Spelling
Art
Looping multiple resources
I also use loops for multiple resouces.  We are quite eclectic with a deep and wide approach so I end up using lots of different resources for one subject.  If I made a math loop for my 1st grader it might look like:
Singapore
Living math
Singapore
Mental Math
Cyberchase
Singapore
Math apps
Singapore
Math facts game
When I use a loop for a subject, I just look at the loop list for the subject when my daughter starts math to see what is next on her loop.
Here is a post about how I used a loop schedule for about a week's worth of subjects.  It typically took a day or two longer to finish the loop than I had originally thought, but I'm okay with that.  We don't use curriculum that is planned out by the day so we can vary how long it takes us to finish it.
Here is a post showing how I used mini-loops.  For this schedule I set up several different loops where each child had a set number of things to do on the loop before moving on to the next loop.
Right now I'm using a block schedule with subject loops to organize multiple resources.  Switching things up helps keep things fresh and interesting.  Do you like to use a block schedule or a loop schedule?  How do you set yours up?  Please share in the comments.