We have been working our way through this physics / physical science set-up this school year with the Developing Critical Thinking Through Science
 book as a spine.  It hasn't been working well.  The book is great with wonderful experiments, but the scriptedness of it just doesn't suit me as a teacher.  Plus it does not give a lot of information on the concepts taught through the experiments.  My knowledge of physics/physical science is quite limited so it was difficult for me to use this to teach.  I contemplated many different programs out there and came down to two choices.  One choice involved reading library books on physics/physical science topics together and spending lab time with Snap Circuits and the Thames and Kosmos Physics Workshop.  The other choice was investing in a textbook curriculum.  I went over the two options with my older son because I wouldn't move my younger son to a textbook yet anyway.  I gave my older son a choice and he chose the textbook option with the lab time involving Snap Circuits and the Thames and Kosmos Physics Workshop. He also wants to read the library books I will read with his brother, but he will do that in his free time.  He loves science.  I was surprised he chose the textbook.  I feel the textbook will be beneficial to me as a teacher.  It will help me better convey the concepts in a logical manner.  I'll choose living science books to match the textbook topics so my younger son will be covering the same topics.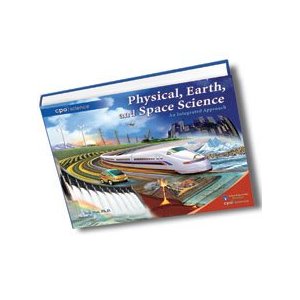 I looked at countless options for curriculum.  I wanted a secular program so that eliminated most homeschool curriculum.  I also wanted something colorful, easy to follow, and was interesting to read.  I didn't want a basic overview.  I wanted to cover similiar topics that we were planning to cover in the Developing Critical Thinking Through Science book.  I had my son look at samples and asked him what he liked in the textbook.  He liked the end of the chapter questions.  That convinced me to give a textbook a try.
I chose one that we will use for 2 school years.  We were planning on covering Earth science next school year so this book takes care of that as well.  I chose CPO Physical, Earth, and Space Science for my oldest son.  It wasn't cheap, but it looks like quality materials that I can reuse for my other children.  The CPO website has worksheets, illustrations, and slides to go along with the book.  I am getting the teacher's guide as well.  It lists library books to go along with each topic.  That should make it easy to find the right books for my younger son.
I realize the curriculum I chose has math that is difficult for my son's level.  I considered this and decided to go with it anyway.  The only middle school program I found that I would purchase was quite a bit more money than this one.  This one is supposed to be geared for Algebra 1.  So I'm looking at this in two ways.  I will help him work through any difficult math problems.  Also my son is motivated and interested in more difficult math concepts and does well learning math from a whole-to-parts viewpoint.
Here is the plan for my older son:
2 days a week of physics textbook – 30 minutes each time
1 day a week of physics lab from text – 60 minutes (if we hit that point in the book – otherwise more text work)
1 day a week of physics fun lab with Snap Circuits and Physics Workshop – 60 minutes
Here is the plan for my younger son:
1 day a week of physics living books – 45 minutes
1 day a week of physics lab from text with brother – 60 minutes
1 day a week of physics fun lab with Snap Circuits and Physics Workshop – 60 minutes