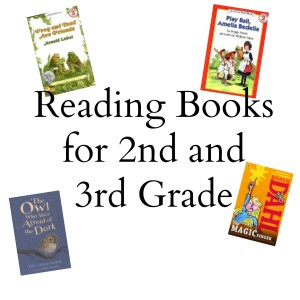 I've compiled a list of readers at the 2nd and 3rd grade level.  I'm listing them in the order I plan to have my child read the books aloud.  I looked up the grade level and the lexile level on the books by using the Scholastic Book Wizard.  I wasn't able to find some books in the book wizard so I put them in my list where I thought they would fit.  Many of the books are ones that I have used with my older kids in the past.
The reading books aren't put in an exact grade-level sequence.  I've placed some easier books after some harder books and some longer books are placed later on even though their grade level and lexile level are easier.
If you click on the link (aff) for each book it will take you to a copy of the book on Amazon if you want to look inside the book or find out more about it.  I own about half of the books and get the rest from my local library.
Art-Literature Reader: A Primer (reading level possibly late 1st or early 2nd grade)
The Beginner's Bible (approximately grade 2 level – will be read for Bible time)
Little Runner of the Longhouse 1.9 grade level, 430 lexile level
Daniel's Duck 2.1 grade level, 180 lexile level
Greg's Microscope 2.2 grade level, 170 lexile level
Frog and Toad are Friends 2.4 grade level, 400 lexile level
Frog and Toad All Year 2.2 grade level, 300 lexile level
Frog and Toad Together 2.3 grade level, 330 lexile level
The Fire Cat 2.2 grade level, 400 lexile level
Amelia Bedelia 3.0 grade level, 340 lexile level
Amelia Bedelia and the Baby 2.1 grade level, 80 lexile level
Good Work, Amelia Bedelia 2.5 grade level, 220 lexile level
Mouse Tales 2.6 grade level, 440 lexile level
Soft Step and Bright Eyes (grade 2?)
Good Driving Amelia Bedelia 2.8 grade level, 230 lexile level
True Story of Balto 2.5 grade level, 330 lexile level
Hill of Fire 2.9 grade level, 350 lexile level
Friends Old and New (Grade 2 Dick and Jane book)
Nate the Great – 2.2 grade level, 130 lexile level
Play Ball, Amelia Bedelia, 2.8 grade level, 220 lexile level
The Big Balloon Race 2.9 grade level, 400 lexile level
Pompeii…Buried Alive 3.2 grade level, 340 lexile level
The Sword in the Tree -2.2 grade level, 380 lexile level
Titanic Lost…And Found 2.5 grade level, 290 lexile level

Keep the Lights Burning, Abbie 2.7 grade level, 260 lexile level
The Long Way Westward – 2.9 grade level, 320 lexile level
Prairie School -3.2 grade level, 410 lexile level
Here Comes McBroom: Three More Tale Tales 2.8 grade level, 680 lexile level
Teach us Amelia Bedelia 2.8 grade level, 100 lexile level
Wagon Wheels 3.5 grade level, 350 lexile level
The Boxcar Children 3.2 grade level, 490 lexile level
The Magic Finger 3.5 grade level, 450 lexile level
The Owl Who Was Afraid of the Dark 3.5 grade level, 550 lexile level
Ramona Quimby 3.5 grade level, 860 lexile level
Ramona the Brave 3.5 grade level, 820 lexile level
More Roads to Follow (stories of interest) – 2nd half of 3rd grade Dick and Jane reader
B is for Betsy 3.9 grade level, 660 lexile level