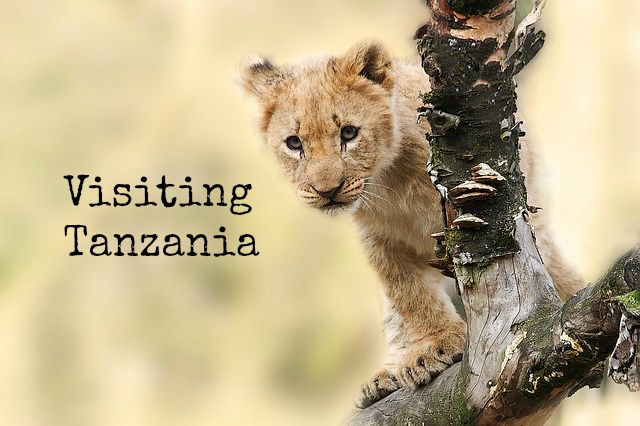 We "visited" Tanzania recently.  While an actual visit would be have preferable, this visit didn't involve airline travel.  We traveled to the country as we read books, watched videos, and did activities together.  All other school work was put aside as we immersed ourselves into the culture and country of Tanzania.  At the end of the day we all had gained perspective and knowledge about the people and the country of Tanzania.
At the end of last school year, we did something different.  Instead of spending lots of little chunks on a geography country study, we did it all in one day.  This was so successful that we are going to be doing this all the time now.  Over the course of this school year, we will visit 6 more countries and learn more about the diversity in our world.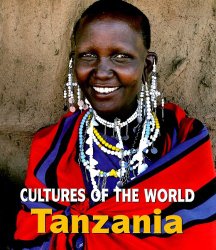 Here are some of the resources we used:
Books:
Cultures of the World Tanzania by Heale and Wong  (We spent quite some time with this one.)
Windows on the World  (Read about different people groups in Tanzania and surrounding countries)
True Friends A Tale from Tanzania by John Kilaka
The Gospel According to TL and Daisy (mostly stories of their experiences in the surrounding countries of Kenya and Uganda)
Read Fresh Fish A Tale from Tanzania by John Kilaka
Videos:
Watch Kilimanjaro
Watch IMAX Serengeti 
Watch Walking in Sabina's Shoes (short)
Activities:
Color Tanzania Flag
Make Tanzania cookie cake map.  My 11 and 13 year old did this one.  I gave them a rectangular shaped cookie cake and they cut it to the shape of Tanzania.  Then then labeled the different areas of the country.  They used blue sugar for water, marshmallows for the cities, and extra cookies for the mountains.  Caramel and chocolate syrup were used to make the different items stick on the cake.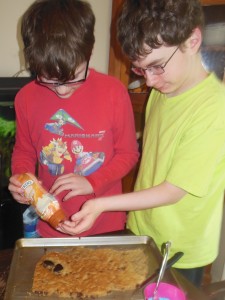 Tanzanian meal – Maandazi, Makate Mimina, and Mishkaki.  This took up a bulk of our time.  We all did different parts of the meal.  Maandazi (on the right hand side of the plate) are East African donuts that have ground cardamon and coconut milk in them.    Makate Mimina is a coconutty rice pancake (bottom of the plate).  The recipe I tried didn't turn out correctly, but it was edible and quite sweet.  For the Mishkaki we used marinated chicken that was skewered and grilled in the oven.  I added some peas to the plate…it needed some color and veggies!  My kids all decided that if they moved to Tanzania, they could eat the food without a problem.  It wasn't their best loved meal, but it was liked much more than their Sudanese and Ghanian meals.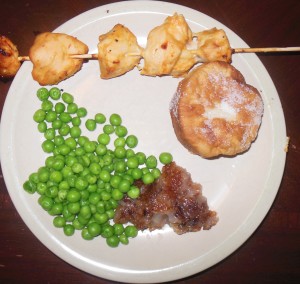 Have you ever tried East African food?  What do you like to eat?