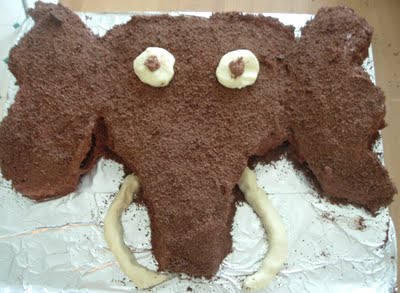 When my boys were younger, we made a woolly mammoth cake as part of our prehistory study.  I couldn't really find an example of a woolly mammoth cake online, so I adapted an elephant cake.  I plan to make this cake with my daughter this school year.
If you want to make this cake you will need:
2 cake mixes
one round pan
one rectangle pan
chocolate frosting
dark chocolate, grated
white chocolate with powdered sugar
To put it together:
Prepare the cake mixes as directed and allow to fully cool.
Remove the cakes from the pans.
Use the rectangle shape to form the trunk and head.  Cut the rectangle cake to form the trunk.  This is best done if the cake has been frozen (less crumby).
Cut a zig-zag through the middle of the circle cake to form both ears.
Put the shapes together to form your woolly mammoth.
Cover it all in chocolate frosting.
Sprinkle grated dark chocolate over the whole figure to make it woolly-looking.
The eyes and tusks were made from white chocolate that was melted and mixed with some powdered sugar.  The powdered sugar thickened the chocolate mixture to make it easier to create a shape.
The middle portion of the eye was made from a dab of chocolate frosting
The best part was at the end when it was time to eat!