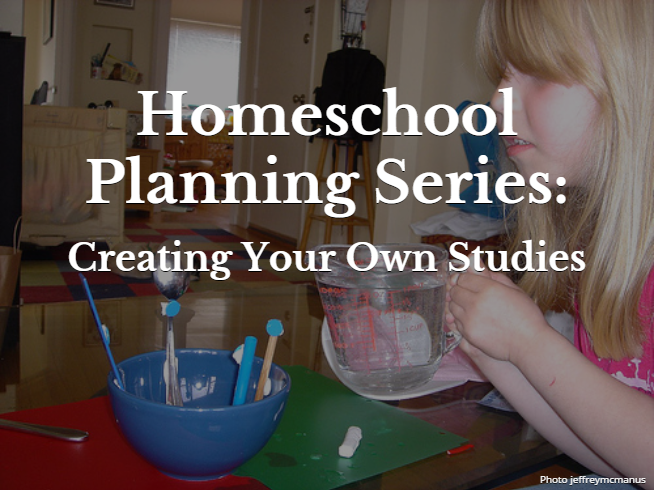 The first year we started homeschooling, my son was very much into dinosaurs.  It was the subject that he wanted to learn about the most.  So I searched out resources and attempted to put them together into a study.  It was a hit.  Since that time, I have put together dozens of studies on a variety of topics.  These "home-grown" studies have been a favorite way for all of us to learn.
While they do take some time and effort to put together, they do have their benefits:
1.  Free or inexpensive
Many of the studies that I have put together have been completely free because I use the library for books, videos that I can find online, internet resources, or projects using things we already have around the house.
2.  Personalize education for the child
This is one of my favorite things about putting together my own studies.  Knowing my child, I choose books, videos, and activities that my child should find interesting.
3.  Learn about the topic as you put the study together
As I put together studies, I found that I learn too.  This helps me be better prepared for answering questions that my kids have as we make our way through the study.
4.  All projects or activities on this study are ones you are willing to do.
I love this part.  I've purchased curriculum with activity recommendations included.  I found that I was only willing to do a third of the activities.  Some activities were complex or they needed me to go off and purchase expensive materials in order to complete the task.  The internet is full of ideas.  As I put together a study, I search online until I find an activity or project that I am willing to do.
How to put one together
1.  Choose a topic
I prefer to create topical studies.  Most of our studies are topics in history, geography, or science.
2.  Find a library book that covers the topic well.
When I put together a study, the first thing that I look for is book that covers the topic well.  This spine is sometimes hard to find, but in most cases I've found something at the library that will help me build my study.  Sometimes I've combined a couple of books or used a video series as a spine instead.
3.  Make an outline for the topics in the book.
Once I have chosen a book, I make an outline of the topics in the book.
4.  Fill in the outline with books
If I like my spine and feel like it is a good book to read aloud, I will write down the page numbers for each topic on my outline.  Many times I prefer to use a variety of library books for the different topics.  I just write down the name of the book on my outline and any page numbers if it is only a part of a book that I plan to read aloud.
5.  Add videos, projects, experiments, or activities to the topical outline.
I mostly use the internet for this part of the study.  Pinterest is a great place to visit for ideas and Youtube has videos on just about any topic.   Ideas are out there and I search until I find one that I think we will all like.
6.  Print it off and you are ready to go.
Once the outline is filled in with books, videos, and activities, I print it off.  It is hard to schedule one of these topical studies because the time it takes to read a book aloud or do an activity can vary greatly.  I found it to work best when I schedule the time.  We might spend an hour on the study and we just get done what we can during that time and pick up where we left off the next time.
Here are some sample studies I have completed:
Stay tuned for more in our homeschool planning series: