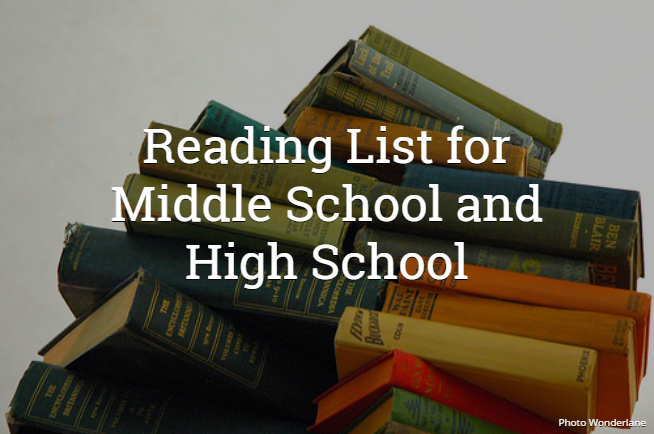 I compiled a middle school to high school reading list for my strong reader.  We started this list in 6th grade and are in the middle of 7th grade right now.  Most of the books on the list would be considered classics, but many contemporary novels are included as well.
I like to read a synopsis of a book to determine if it is a good fit for my kid before assigning it and Wikipedia usually does a pretty good job with that.  So for each book on this list you will find a link to the synopsis on Wikipedia (if available) as well as a link to Amazon.  Many times Amazon will let you look inside a book to get an idea about the writing style of the author.
My son is using Classical Writing curriculum and Excellence in Literature as a literature guide so I used those two resources heavily to determine what books to pick.  I also perused various reading lists and recommendations to put together a well-read book list.  My son is a very strong reader and he should not have any difficulty with reading and understanding these books.  He also has a high interest in going into the STEM field so I want to make sure his education in the humanities is strong since he will not take many of those classes in college.  I don't know if we will finish each list or if every book here is one that he will finish.  We will adjust as we go, but this is the list that we will use to choose the next book.
When my other kids get to middle school I will adapt this list as necessary to their reading skills by having them start the list later or not read all the of the books on the list, if necessary.
Prior to middle school my son spend about 2 years going through much of this literature list.  Some of the books, poems, or short stories there are repeated on this list because we skipped them or because I thought they could use a second perusal.
Middle School
6th Grade
7th Grade
8th Grade
High School
9th Grade
10th Grade
11th Grade
12th Grade