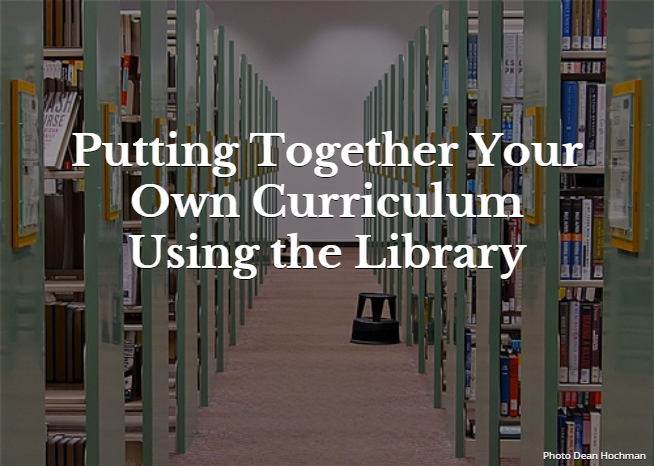 I have been trying something different this coming school year.  I am utilizing all of the library's resources and planning my curriculum based on that.  To start, I decided on what topics I wanted to cover for the upcoming school year.  I am using the library's resources for almost every subject.  Math, Bible, language arts, and foreign languages are subjects where I will purchase curriculum or books.  But for science, music, art, history, geography, and literature I am sticking with the library.
Once I decided on the topics I want to cover, I searched the catalog online and put all the books on hold for that topic that remotely looked like something I would use.  This process is long and tedious especially when you have to tote the books home and go through them one by one.  But it has opened up a treasure of resources.  If I purchased all the items I planned to use on geography alone I would spend well over one thousand dollars.  I will be listing resources and plans on this blog as soon as they are complete.
Once the books are chosen I will then need to mesh all the resources together into a cohesive learning experience.  I'll have to reserve the books we will read and the DVDs we will watch as well as add in activities.  Lately, I have been checking out about 80 books twice a week for the past couple months.  I should be done with choosing resources in about a month.  At that point I will have to put them all together into cohesive studies.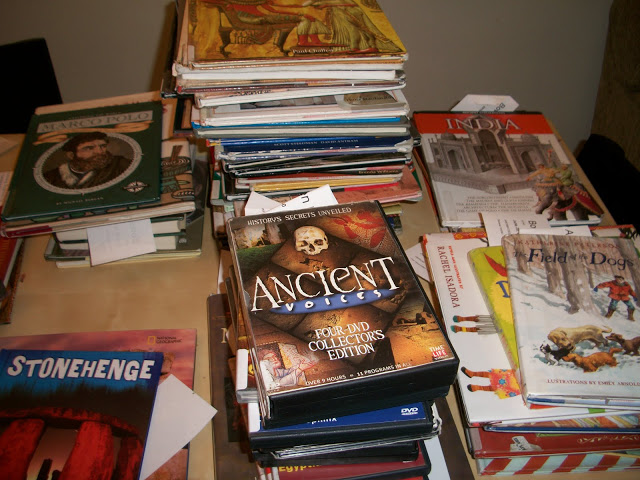 Here is the result of my most recent library trip.  The largest stack is on ancient Egypt.  I am just starting to look at books and DVDs on that topic.  On the back left is a short stack on the country of China.  I am finishing up picking resources for China.  On the back right is a short stack of books on ancient India.  There isn't much available on that topic so my resources to choose from are limited.  On the front left are a few books on ancient Europe.  The front middle contains a large stack of DVDs which is mostly about ancient Egpyt this time.  On the front right is a stack of potential literature choices for my younger son.  I am still choosing reading books and read alouds for him.  It will take me about 3-4 days to go through these before I return them for another lot of books.
Why in the world would I do all this when it doesn't cost much to buy someone else's plans?  I like personalizing my children's education.  And one aspect often missing in studies that I can purchase is depth.  My children thrive on depth so we dig deep in the topics we explore.  Also, as I choose resources I can pick and choose ones that I believe will be the best resources to teach my children.  And it sure doesn't hurt that I enjoy the process.  I also find it easier to teach when I have put the plan together.  By making my own plans I don't have to try and find the books required for someone else's plan.  Sometimes a library will have all the required books, but often a parent will have to purchase a handful of books to complete a study anyway.  I am looking forward to using the library as the main contributor to our studies this coming school year.