An edible Thailand?  We are studying Thailand this school year and exploring what the country is like without stepping foot outside our country.   Getting a general feel for the country and appreciation of the culture is the overall goal.  For each country we study we do some map work with cookie dough.  Salt maps were a fun idea, but storage of multiple maps was not something I wanted to handle.  To start we make a batch of cookie dough.  I usually make sure to double or triple the recipe to give some practice adding fractions. The dough is spread all over most of the cookie sheet paying attention to the general shape of the country.  I learned not to shape it exactly prior to cooking because it can change dramatically.  Once cooked I cut it to look somewhat close to the shape of Thailand.   Decorating the cookie cake is my kids' favorite part.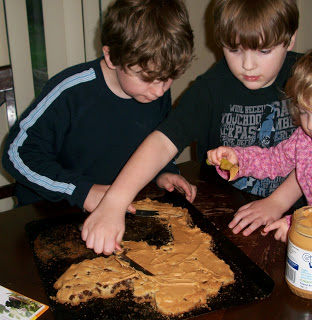 I typically use frosting, but we didn't have any on hand so peanut butter was used to make everything stick to the cake.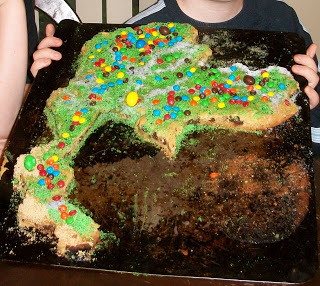 Here is the finished product.  We did mini-M&Ms for the mountains, brown sugar for the beaches, green sugar for the jungle, gray sugar for the rivers, and peanut M&Ms for some cities.  The placement of things wasn't exact, but we tried to approximate what the landscape is like.  My 3 year old had fun squishing the mini-M&Ms into the land.  All three kids had fun eating it.  Gradually eating a cookie map also gives added exposure to the country layout.  They can choose a certain area to eat and I find it to be an opportune time to talk about the area of the country they are eating.