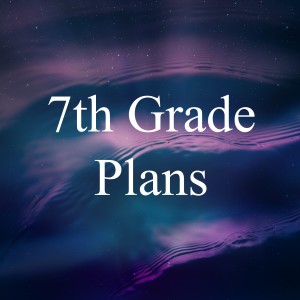 My 7th grader is a diligent learner who enjoys the process of learning.  He is strong on the language arts front and has a high interest in science.  He currently has plans for a future in a STEM field. Our family also has a global focus so we are in the process of learning several languages and each year we spend time learning about different countries around the world.
Math: Finish Art of Problem Solving Pre-Algebra, Start Art of Problem Solving Introduction to Algebra, Zome Advanced Math Creator 4 with Zome Geometry
Science:  Miller Levine Biology Macaw iPad edition with labs, independent biology research with an accompanying science research paper and possible entry into a local science fair and Hewitt Conceptual Physics course,  Engineering Everywhere units with brother.
History: Documentary-focused early modern world history study with McDougal Little Modern World History book and the People's History of the United States
Geography:  Africa (countries and culture) unit study, Material World, apps to learn the locations of all countries, capitals, US states and Canadian provinces (with their capitals), bodies of water, major rivers and landforms around the globe
Current Events: Democracy Now broadcasts, Aljazerra English for reading the news
Language Arts: Finish Classical Writing Aesop-Homer for Older Beginners, speech, Vocabulary Energizers, Abraham Lincoln's Introduction to Handwriting and Calligraphy, Classical Writing Poetry for Older Beginners, Rod and Staff English 7 (grammar only), Classical Writing Diogenes Maxim, Movies as Literature, Excellence in Literature as a literature guide only.
Reading: Autobiography by Ben Franklin, Poor Richard, Julius Caesar by Shakespeare and Merchant of Venice by Shakespeare, short stories, Robinson Crusoe, Further Adventures of Robinson Crusoe, Around the World in 80 Days, Prince and the Pauper, Little Women, Last of the Mohicans, Call of the Wild, Great Expectations, Pilgrims Progress, The Man in the Iron Mask
Arabic:  Arabic for Life, Sahlawayhi 1: Graded Stories for Beginners, Introduction to Spoken Standard Arabic: A Conversational Course on DVD, Arabian Sinbad DVDs
Mandarin: Basic Spoken Chinese, Basic Spoken Chinese Practice Essentials, Basic Written Chinese, Basic Written Chinese Practice Essentials
Ancient Greek: Athenaze: An Introduction to Ancient Greek Book I
French: Contacts by Valette, Duolingo
PE:  Running, Swimming, Nutrition and Fitness study
Fine Arts: Hoffman Academy video piano lessons, Music Ace Deluxe, The Phonics of Drawing
Bible:  Read through Bible (1/2 way this year), Evidence for Christianity Study, The Holy Spirit and His Gifts, OT types and shadows study
Logic:  The Examined Life: Advanced Philosophy for Kids, Perplexors, Traditional Logic I
Computer:   Codeacademy
He approved this schedule:
8:45-9:30 Bible
9:30-11:00 Foreign Language
11:00-1:00 Math or Language Arts Block
Lunch break and exercise time
2:15-3:00 Computer, Art, Music Theory, or Logic (Rotating)
3:00-3:45 History, Geography, Current Events
3:45-5:30 Science (his favorite)
For homework he would have PE (running a mile), 20 minutes of music practice, and reading literature in bed at night.
Our Nutrition study will replace the mid-day exercise once a week and take the 2:15-3:00 slot as well I think.