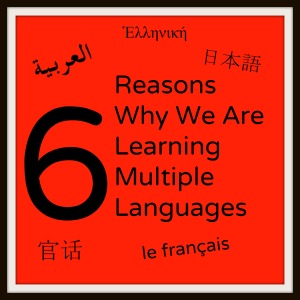 We have been on this foreign language journey for many years now.  I started exposure to Mandarin early on and when my oldest was in Kindergarten, we started to formally learn Mandarin.  Wanting to give my children the advantage of early exposure while their sound systems were still pliable, I started Arabic, French, and Greek the next year.  Over the years, many have wondered why we are learning several languages and specifically why we have chosen Arabic as a language to learn.
Here are the 6 main reasons why we are learning multiple languages in our homeschool:
1.  We love different cultures
Our family loves different cultures.  We find diversity enriching and enjoyable.  Learning a language is more than words, it is a huge window into understanding and appreciating a culture different from your own.  We have learned so much about other cultures through language study.
2.  We want our children to have a global perspective and see the world through borderless eyes.
While our kids are citizens of two different countries, we want them to see the world as borderless.  As Christian pacifists we value all human life whether it is in a country on the other side of the globe or next door.  We want our children to see people as people and not as people who are more than or less than another group of people.  Learning languages breaks down barriers and leads to more understanding.
3.  We have a heart for missions
As Christians we have a desire to bring Jesus to those who have never heard.  We have seen the bonds of religion and desire for all people to find freedom in Christ.  Learning languages will give my children a tool to share the love of God with people who have never heard about the grace of God.  We chose Arabic and Mandarin because they are two major languages found in the 10/40 window, although one of my children has switched from Mandarin to Japanese because he was highly motivated to learn the language.
4.  Languages are beautiful
I think the sounds and structures of different languages are beautiful.  Once upon a time I worked as a Speech-Language Pathologist helping young children learn to talk.  The process of learning language fascinates me.  Also, in graduate school I spent time working on a project that helped speakers of other languages pronounce English better.   I gained understanding about how our sound systems develop and why it is important to begin a language early.
Still I had very little foreign language instruction in my life.  I dabbed in a few languages, took a couple years of required Spanish in high school, and a semester of German in college.  The high school Spanish was mind-numbingly dull, but the semester of German in college was so different.  The Spanish class focused on memorization where a good chunk of the students cheated their way through the class.  The German class focused on communication and learning the language and the culture.  I learned so much more with German because of the method.  Plus it came in really handy when I spent a year in Europe and had a roommate from Germany.
Because I find languages beautiful, it is only natural to pass that love onto my children.
5.  It is good for the brain.
While this didn't factor into my original reason for starting a foreign language, it is an important one now.  Foreign language has enabled me to really challenge my kids.  I believe that every child should face intellectual challenge for at least some part of their schooling.  I've given up attempting to challenge one child in English language arts, but foreign languages (especially Greek) has allowed my child to face something intellectually difficult in the language arena.  I've seen gains and greater understanding of English through learning languages too.
6.  It will give my kids the tools to communicate with a good chunk of the world.
While I realize that I may never help my children achieve fluency or put down several languages on their resume, learning languages is giving my children an important tool to be able to communicate with a good chunk of the world.  If they so desire, they can take their skills to fluency when they go off to college.  Meanwhile, they are learning tools to build bridges, understand others, and communicate with a good chunk of the world.
Read more about our foreign language journey in these languages:
Arabic learning
Greek learning
Japanese learning
Mandarin learning
French learning