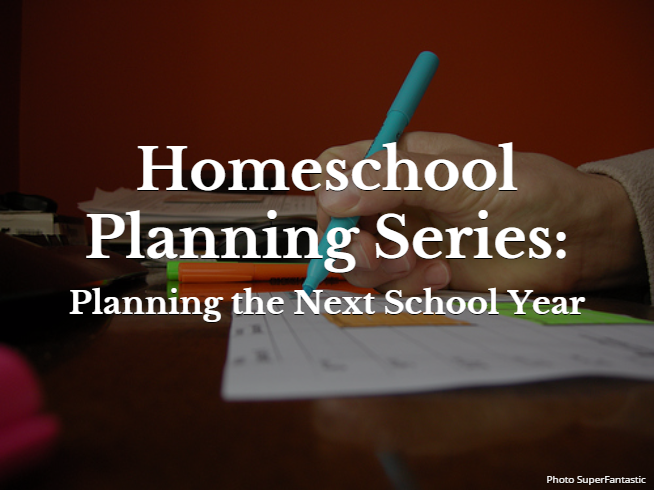 When it comes down to planning the next school year, there are a few things that we have done that seem to wrap up the current year and help me finalize plans for the upcoming year.
How I plan the next school year:
1.  Long-Term Plans
I work with long-term plans where I have gathered a list of resources that I think will work for each child.  This is my working list.  This can be the most time-consuming step.
2.  Standardized Testing
Towards the end of the school year, I have my kids do some kind of testing.  We rarely do any kind of tests in our homeschool, but we do use standardized tests once a year.  I find it to be quite helpful in the planning process.
Once I give the test, I go over the test and see how each child answered the questions.  I find that it gives me an "unbiased" window into my children's skills.  Many times I've been surprised at some of my children's responses and it served as a reminder that we might need to cover an area a little bit more.  Other times it has confirmed that we should keep on keeping on.  I find the most valuable part of testing isn't the test scores at all.  It is in my review of my children's answers.
3.  Getting the child's input
I sit down one on one with each of my kids and talk about ideas for the next school year.  I have them tell me some things that worked well for them this year and some things they would like to change.  We go over the working list and discuss topics and plans for the next year.  I ask them what they would like to learn most in the upcoming year.  This is an extremely important part of the planning process.  We basically solidify the plans together.
4.  Finalizing plans
I finalize the list of resources that I plan to use for each child.  If my child has requested resources in an area or if I consider something new that we didn't go over together, I have my kid come and look at samples to help see if it would be a good fit.  Once finalized, I purchase any necessary items.
5.  Getting materials together
Once I have the resources on hand, I look through them.  If they are just-do-the-next-thing kind of materials, I set them aside ready for use.  If they require me to make some sense of their order or if they involve several different books, I write out all of the assignments in a logical order.  During the school year, we just go down the list crossing off assignments as they are completed.
Stay tuned for more in our homeschool planning series:
Putting Together Your Own Studies
Choosing a Schedule