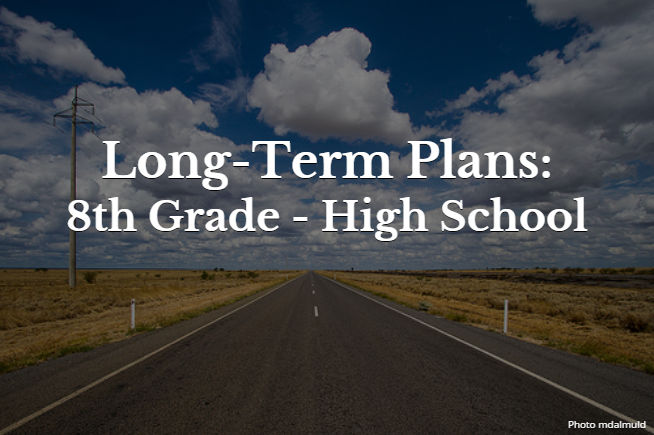 I finally completed long-term plans for my current 7th grader.  I had previously done some long-term plans for him a couple years ago and I revised them to meet his current interests and progress.
This kid has an interest in entering a computer science or electrical engineering field.  Due to this interest, math and science will be priority subjects.  I'm currently taking the approach where his computer studies will be independent.  I will just carve out the time for him to spend on it and he will let me know what resources he needs to continue to learn.
For high school I'm taking a testing approach to verify learning.   My son tends to test well and learn well independently so this approach should work for him.  He will be taking any SAT subject tests or AP tests that are doable and appropriate for his studies.
This is purely an estimate.  I'll revise and adapt as we go.  It helps me to have a big picture so I can better prepare for each school year.
Math
Science
History/Geography
English
I will be using these resources to come up with English courses for each year of high school.
Writing
Creative Writing – TBD – 11th -12th grade
Vocabulary
Literature
Foreign Language
Planning on splitting foreign language time between these two and credit will be given when the course is completed.
Arabic
French
Contacts – 6th-9th
A Votre Tour – 10th-11th
French literature – 12th followed by SAT French with Listening Subject Test
This should equal French 1, French 2, French 3, and French 4 for high school (French 1 and part of French 2 should be completed by the end of 8th grade)
Fine Arts
Piano – 8th-12th
Carving the Little Guys – 8th
Joy of Painting – 8th
Local art class towards possible portfolio – 2 hours week – 9th-10th
Logic and Philosophy
Computer
3 hours independent study per week – 8th (topics of interest – currently learning Java)
5 hours independent study per week – 9th-12th (local classes, AP study, start own business)
Bible
Personal studies – 8th-12th
Read entire Bible – 7th-9th
Names of God study – 8th
Group Bible study with Literary Study Bible  – John and Acts – 8th
Group Bible study with Literary Study Bible – Genesis and Isaiah – 9th
Group Bible Study with Literary Study Bible – Matthew and Romans – 10th
Group Bible Study with Literary Study Bible – Ephesians, Philippians, Colossians – 11th
Group Bible study with Literary Study Bible – Psalms and Hebrews – 12th
Reading:  Beyond the Firmament by Glover, Coming to Peace with Science by Falk, More than a Theory by Hugh Ross, Did Adam and Eve Really Exist? by Collins, Cell's Design by Rana, The Young Earth:  The Real History of the Earth – Past, Present, and Future by Morris, Bones of Contention – A Creationist Assessment of Human Fossils by Lubenow – 10-12th
PE
45 minutes per day exercise – 8th
Health – TBD- 10th
Personal Fitness (activity of choice) – 9th-12th
High School Credit Hours estimate
9th
Math 1.5
Science 1.5
Computer 1
History 1
English 1
Foreign Language 1
Art 0.5
PE – 0.5
Bible (not included in total – 0.5)
Total – 8
10th
Math 1.5
Science 1.5
Computer 1
History 1
English 1
Health/PE – 0.5
Foreign Language – 1
Art – 0.5
Bible (not included in total – 0.5)
Total – 8
11th
Math 1.5
Science 1.5
Computer 1
History 1
English 1
Foreign Language 1
Music 0.5
PE – 0.5
Bible – (not included in total 0.5)
Total – 8
12th
Math 1.5
Science 1.5
Computer 1
English 1
Government 1
Foreign Language 1
Music – 0.5
PE – 0.5
Bible – (not included in total 0.5)
Total – 8