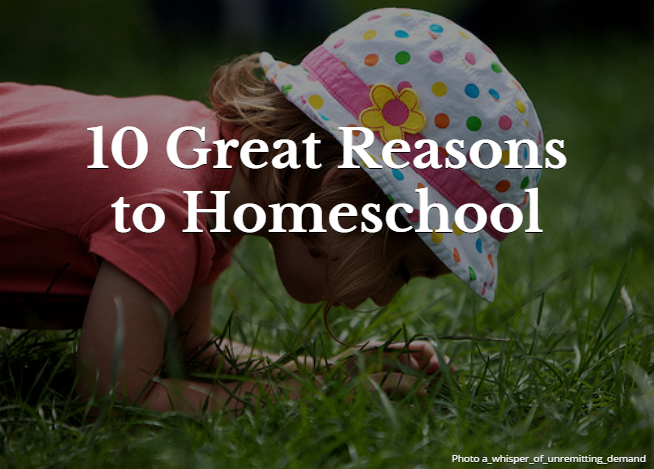 Homeschooling is growing in popularity.  Each year more and more families are making the decision to pull their child out of a public school or never even enroll their child in the first place.  We started homeschooling in 2007 and have been homeschooling ever since then.  While homeschooling isn't an easy choice, it is has been well worth it.
There are many great reasons to homeschool.  I'm listing my top ten in no particular order.  I'd love to hear some of your reasons.  Please share in the comment section.
1.  Escaping the standardized testing culture
Today's schools seem to have fallen into a ditch of testing, testing, testing.  Home education allows you to focus on educating and not on passing a test.
2.  Passing on your values
Home education allows you to share your values with your children in your day to day life.  If a religious, moral, or political viewpoint is important to your family, you can teach it directly or have informal discussions during the day as issues arise.
3.  Freedom
Homeschooling gives your family freedom.  You don't have to be bound to a particular schedule or even have to stay in one place.  You can travel the world or stay home.  You can sleep late, rise early, or do a bit of both.  Home education allows you to organize a life that works for you and  your family.
4.  Your child can be himself/herself
The bullying culture of the schoolroom promotes uniformity and looks down on anyone who is different.  Homeschooling allows your child to be himself or herself without peer-shame.  Your homeschooled child can choose peers that share similar interests rather than having peers based on age groupings in the classroom.
5.  Go at child's pace
There is no need to keep up with the class or wait for the class to catch up.  Homeschooling allows you to go as fast or as slow as your child needs.
6.  Freedom to use materials or methods that work best for your child
The standard school situation requires the teacher to use a certain book and teach in a classroom setting.  Homeschooling allows the parent to use an education method that suits the child best.  Whether that is unschooling, informal studies, learning through travel, classical, Charlotte Mason, Waldorf, Montessori, or a traditional method, homeschooling allows you to tailor the method to the child.  Homeschooling also allows you to think outside the standard box of school-issued textbooks and use something that will connect with your child.
7.  Teach subjects that a standard school setting doesn't cover.
Many schools are focusing on the basics now.  Homeschooling allows your child to delve deep into a subject that isn't normally covered in a school setting.
8.  Relationship with your children
Homeschooling your children can help you know and appreciate them even more.  It will help you learn more about how they think and what makes them tick.  Not only that, but the day in and day out of homeschooling will help build strong bonds.  You will have bad days and good days, but you will go through them together while getting to know and understand more of each other.
9.  Sibling bonds
A standard school situation would have siblings apart from each other for the bulk of most days.  Homeschooling will allow your children to develop strong bonds with each other as they play together and learn together.
10.  Time
One of the best gifts you can give your child is your time.  Homeschooling will allow you to be there for those precious moments like when you hear your child read for the first time or when your child finally gets a math concept you are explaining.  Lengthy discussions with you during the day are also made possible because of homeschooling.
Not only does homeschooling give you time with your child, but it gives your child time to be a child.  Childhood rushes past fast enough.  Opting out of the school system will give your child time to fully explore topics of interest, time to play, and just time to not be busy all of the time.
What are some of the benefits of homeschooling that you have discovered?