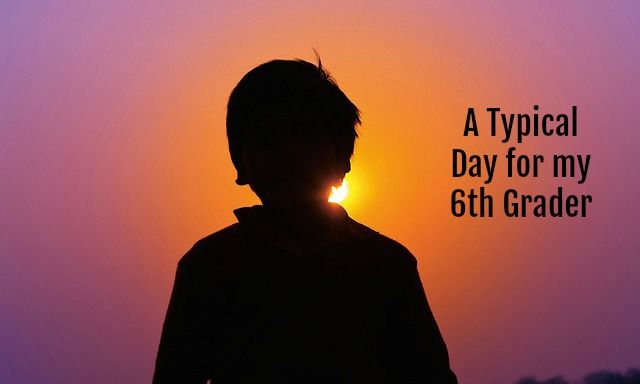 While there really is no such thing as typical, I recently kept a record of one of my 6th grader's school days. This day is a good representation of a day where we were home for the day and had nothing else planned.
Personalizing my children's education is one of my top reasons for homeschooling. My 6th grader's curriculum choices and the way we use them fit my son.  When my other children hit 6th grade, their year will be personalized to them so it will look different.  My current 6th grader is an auditory/sequential learner who has language arts strengths and a high interest in science.
We use a mini-loop schedule right now. This makes every day a little different, but most major subjects are covered in the course of a typical day.
Here is one January day during this school year:
8:30 Breakfast while watching an Arabian Sinbad video.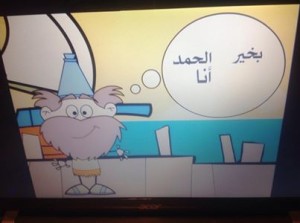 9:00 Getting comfortable in the living room.  I played four Youtube praise and worship songs while each child had a private meditation time.  After this we had a group prayer.
9:45 Went to the schoolroom.  After I printed off The Dangerous Game story and reviewed the suspense elements in a Windows to the World: An Introduction to Literary Analysis chapter with my son, he started annotating the suspense elements in the story.   He continued this until about 11:15.
11:15 He practiced typing using Mavis Beacon Teaches Typing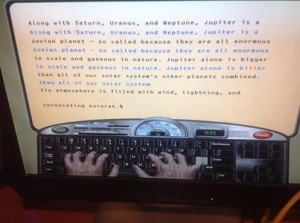 11:30  Running a mile, attempting to beat a time of 7 minutes and 45 seconds.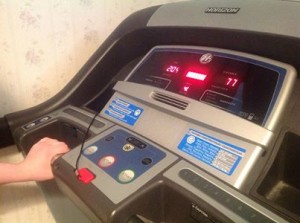 11:50 He did one page in Athenaze: An Introduction to Ancient Greek Book I
.  It was rather quick today so he had a little break while his brother finished on the Treadmill.  It was too noisy for him to do his next task while the treadmill was in use.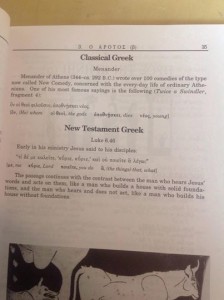 12:10 Time for French.  He did one page in Contacts by Valette.  This was also pretty quick.
12:20 He put on a CD to do Mandarin pronunciation drills using the New Practical Chinese Reader Vol. 1
12:45. He read a section in CPO Physical, Earth, and Space Science: An Integrated Approach
 textbook.  As he was reading, he stopped to tell me how much he liked the book because it introduced him to a new area of science that he now loves.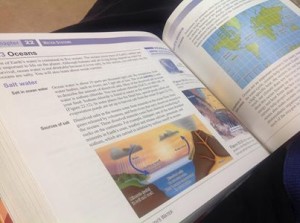 1:15 Lunch while watching Lazy Lucy in Mandarin.  After lunch he had a break until 2:00.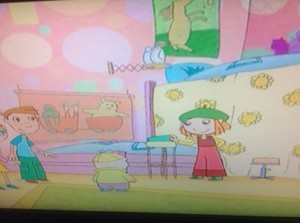 2:00 Exercise time.  During this time he plays with his siblings.  They can play whatever they want as long as they are sweaty after 30 minutes.
2:30 Time to regroup.  He sat down to answer CPO Physical, Earth, and Space Science: An Integrated Approach
 textbook questions orally for the section he just read.
2:50. We sat down to work the problems in Art of Problem Solving Prealgebra
 together.  We finally finished the end of a chapter review questions that day.  It took us several days to complete them.
4:00 Everyone sat down for a little art time using A Simple Start in Chalk Pastels.  He made two different drawings using chalk pastels.
4:30-5:30 is an hour that we have built into our school day where he chooses whatever he wants to learn.  That day he decided to get a head start on his chores.  He then decided to play a World Conquest game like Risk on the iPad and use some time to draw pictures for a game he wants to make.
Normally, my son reads in bed at night from about 9:30-10:00, but he recently finished a book (Kidnapped) and he had to wait a couple days before I picked up his new book (Count of Monte Cristo) from the library.  So he opted to head to bed earlier.
I'd love to hear about a typical day in your homeschool.  Please share in the comment section.