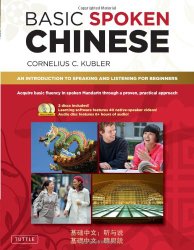 We have tried many different resources in our journey to learn Mandarin.  Our newest find seems to be the best yet.   Basic Spoken Chinese and Basic Written Chinese by Cornelius Kubler separates spoken and written Mandarin.  One of the major difficulties we have had in learning Mandarin is the slower pace of learning to read and write.  Kubler's books allow you to go at a separate pace for speaking/listening and reading/writing.
According to the book's author, these books are equal to one full year of college Mandarin which would be equal to 2 years of high school Mandarin.  When these books are finished, the next step is intermediate Mandarin.
I had my son start these books from the beginning so the first part of the book is review.  So far, I really like the approach.  Because it is designed for a college setting, it assumes that the student is spending a bunch of time on activities outside of class.  As a result, the books are chock full of audio exercises.  I also noticed that the author recommended that college students spend 5 hours of study for each hour in class.  This should mean that these books will take us awhile to complete.
The publisher sent me e-copies of the instructor's manuals upon request.  This allows me to check my son's work.  My son is also using the Basic Spoken Chinese Practice Essentials and Basic Written Chinese Practice Essentials.   Answers for these exercises are also available in the instructor's manual.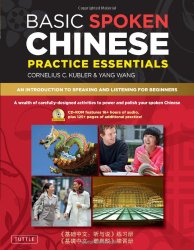 My 12 year old does most of the activities independently.  Occasionally, I will sit with him and check on his progress and his pronunciation.    We've used a tutor in the past and may do so again soon.  I do like how these books have instructions on how a tutor can help a student learn.
The Basic Spoken Chinese incorporates pinyin so you don't need to know how to read and write characters to get started.  Audio is included with the books.
Pros
Separates written and spoken Chinese
Lots of exercises in the books
English explanations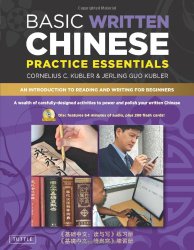 Cons
The books are heavy.
If you get all 4 books, it isn't cheap.
Going to take a long time to get through the material.
If you or your child is learning Mandarin, please share what you are using in the comments.