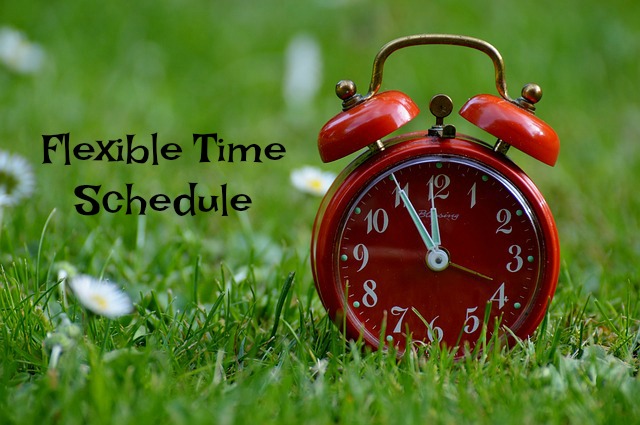 We have used many different schedules in our homeschool. I like to have some kind of organization to our school days, but like to have flexibility at the same time. I found the flexible time schedule to be a great fit for when my children were in the early grades.
To use the flexible time schedule, I decided what subjects we were going to cover for the school year and counted the number of expected school days and the number of hours we would spend on schooling each day.
I then allotted a certain number of hours for each subject.  Once we completed that specified number of hours, we were done for the school year.  This gave us flexibility to spend a long time on one subject if necessary.
When I tried this out with my Kindergartner and 2nd grader, I had success with how much math they completed.  I set a timer for 30 minutes and told them the minimum amount of work I expected.  If they exceeded the minimum work they started to earn a reward of extra time playing their favorite games.  When I tried this, my kids did several days worth of assignments in 30 minutes.  Previously they would take 45 minutes to do one day's assignment.  Since they didn't finish their school year when they completed all the assignments, it allowed time to add in some living math activities and continue to more difficult work.
This was my plan (as I wrote it at the time) when my kids were going into 1st grade and 3rd grade.  Plans do change as the school year goes on, but I like to have a plan in place when the school year starts.
"Bible and Missions: 100 hours  We will be looking in depth at the types and shadows found in the old covenant as well as reading 10 biographies of well-known missionaries in Asia.  We will continue with praise and worship time, memory work, and practice looking up Bible texts.
History: 75 hours  We will be looking in depth at ancient cultures around the globe up until the time of ancient Rome.
Geography: 75 hours  We will do a general overview of the plight of children around the world before continuing to an in depth study of India, Thailand, and China.
Math: 85 hours  The boys will continue with their math studies.  We plan to use Singapore math as well as supplements.
Literature: 75 hours  My third grader will listen to classic read alouds.  Our tentative list is Kim, Ben Hur, Moby Dick, Helen Keller Story of My Life, Huckleberry Finn, Ring of Bright Water, The Prince and the Pauper, and Up From Slavery.  My first grader will listen to a large amount of picture books as well as chapter books like Just So Stories, Wind in the Willows, Lassie Come Home, Heidi, and James and the Giant Peach.
Reading: 75 hours 3rd grader, 40 hours 1st grader  My third grader will read Alice in Wonderland, 20,000 Leagues under the Sea, The Hobbit, A Christmas Carol, The Pearl, The Invisible Man, Uncle Tom's Cabin, and The Call of the Wild.  My first grader will continue with Sonlight grade 2 readers and then move on to short chapter books like My Father's Dragon.
Spelling: 30 hours 3rd grader Continue with Sequential Spelling
Phonics: 65 hours 1st grader will do Explode the Code online
Michael Clay Thompson Language Arts program: 75 hours 3rd grader  This program covers grammar, poetry, vocabulary, and writing.
Informal language arts: 75 hours, 1st grader (blogging, silent reading)  Since my first grader loves to write I will give him more time for blogging and reading books of interest.  I'll wait till second grade before I start grammar.  Rummy Roots will likely be played too.
Science: 75 hours  We will look in depth at cells, the human body, genetics and microbiology related to human diseases.  The third grader and first grader will look at the same topic, but with different depth and resources.
Art: 25 hours  We will do some art appreciation as well as have time for free expression.
Music: 20 hours  We will start guitar lessons and continue with music theory.
PE: 75 hours  This will give the kids time to be physically active during the school day.
Map reading: 15 hours  Just some fun activities learning how to read maps and atlases.
Drama: 15 hours  Still working on how to approach this.  My younger son would enjoy time to act things out.
Mandarin: 45 hours  using Rosetta Stone Mandarin and Chinese Made Easy for Kids
Greek: 15 hours using Hey Andrew Teach Me Some Greek Level 2
Arabic: 45 hours  Using Alif Baa and another source yet to be found
French: 35 hours Still figuring out what to use here.
Game time: 40 hours  Playing board games of choice.
If you add it all up it comes to a total  of 1135 hours for the school year.  Here we have 192 day school years.  I allowed for 20 full days for catching-up, special projects, field trips, homeschool group activities, etc.  I also allowed for 10 half days of school.  This would put a full day of school around 6.5 hours a day."
These were the curriculum choices for that school year. Some may be shocked at the amount of time I had set aside for school each day, but it was a good balance of informal and formal learning so longer days were not difficult to do.
What kind of schedule do you use? Share in the comments.