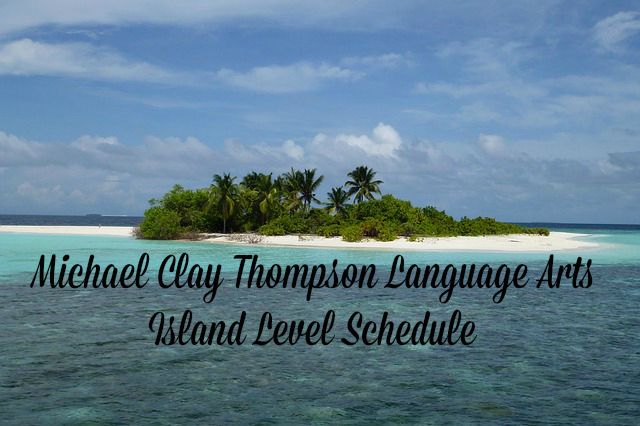 I'm listing our schedule for the Michael Clay Thompson Language Arts Island Level program.  It comes with general guidelines rather than a set schedule so I went through the books and wrote down our plan chronologically with writing assignments included in the schedule.   As I did this, I guesstimated that it would take approximately 30 minutes each time, but that may vary especially when you consider the writing assignments.  According to my schedule it should take 173 days to complete.
For those unfamiliar with Michael Clay Thompson Language Arts, it is quite different from other language arts programs out there.  It uses a story style to cover grammar and writing.  Poetry concepts are presented with an emphasis on appreciation for the beauty of language.  It looks like it will be challenging and engaging – the perfect mix.
Here is our schedule.  Each line is intended to be a day's work although that may vary slightly as we go through the curriculum.
Grammar Island – pg 1-17 INTRO, NOUNS
Grammar Island – pg 18-23 PRONOUNS Memorize subject and object pronouns
Grammar Island – pg 23-34 PRONOUNS, ADJECTIVES Memorize subject and object pronouns
Grammar Island – pg 35-45 ARTICLES
Grammar Island  – pg 46-54 VERBS Memorize "am, is, are, was, were" linking verbs
Music of the Hemispheres – pg 5-17 Sounds of language
Grammar Island – pg 55-61 VERBS
Grammar Island – pg 62-69, ADVERBS quiz on page 154
Music of the Hemispheres – pg 18-37 Sound of poetry
Grammar Island – pg 70 Write story
Grammar Island – pg 71-76 CONJUNCTION memorize and, but, or, nor, for, so, yet
Music of the Hemispheres – pg 38-45 Patterns of poetry
Grammar Island – Review conjunctions, Quiz pg 156
Grammar Island – pg 77-83 PREPOSITION
Music of the Hemispheres – pg 46-48  writing exercise using onomatopoeia
Grammar Island – pg 84-89 INTERJECTION, Quiz pg 158
Grammar Island – pg 90  Make story
Music of the Hemispheres – pg 162-163 analyze poem for sounds and patterns
Grammar Island – pg 91-96 Game pg 160 PARTS OF SENTENCE
Grammar Island – pg 97-103 DIRECT OBJECT
Music of the Hemispheres – pg 49-59 Rhyming
Grammar Island – pg 104-112 SUBJECT COMPLEMENT
Grammar Island – pg 113-114 Write story
Music of the Hemispheres – pg 60-63 writing exercise with rhyming
Grammar Island – pg 115-120 PREPOSITIONAL PHRASES
Grammar Island – pg 121-123 Write story
Music of the Hemispheres – pg 154-155 Rhyme activities
Grammar Island – pg 124-133 CLAUSES
Grammar Island – pg 134-141 SENTENCE ANALYSIS
Music of the Hemispheres – pg 164-165 Analyze rhyming poem
Grammar Island – pg 142-144 REVIEW quiz on pg 162
Grammar Island – pg 164-167 quizzes
Music of the Hemispheres – pg 64-73 Alliteration
Grammar Island – post test pg 152
Sentence Island – pg 7-31 INTRO, 2 PARTS OF SENTENCE
Building Language – pg 3-22 Arch
Sentence Island writing activity pg 268 #1 SUBJECT/PREDICATE
Practice Island – sentences 1-3
Music of the Hemispheres – pg 74-79 writing activity using alliteration
Sentence Island – pg 32-41 PARTS OF SPEECH
Building Language – pg 23-39 Intro to stems
Sentence Island writing activity pg 268 #2 SUBJECT/PREDICATE
Practice Island – sentences 4-6
Sentence Island – pg 42-50 PARTS OF SPEECH
Music of the Hemispheres – pg 154-155 Alliteration activities
Sentence Island writing activity pg 268-269 #3 and #4 SUBJECT/PREDICATE
Building Language – pg 40-45 RE
Sentence Island – pg 51-56 SUBJECT/PREDICATE
Practice Island – sentences 7-9
Music of the Hemispheres – pg 166-167 analyze poem for alliteration
Sentence Island – writing exercise pg 269 #5 SUBJECT/PREDICATE
Building Language – pg 46-48 RE, write a simile and poem
Sentence Island – writing exercise pg 269 #6 SUBJECT/PREDICATE
Practice Island – sentences 10-13
Sentence Island – writing exercise pg 269 #7 SUBJECT/PREDICATE
Music of the Hemispheres – pg 80-85 Meter
Sentence Island – Four level analysis pg 270-273
Building Language – pg 48-53 SUB
Sentence Island – pg 57-67 PARTS OF SENTENCE
Practice Island – sentences 14-17
Music of the Hemispheres – pg 86-93 Meter
Sentence Island writing activity #1 pg 278 ACTION/LINKING VERBS
Building Language – pg 54-56 SUB, write poem and simile
Sentence Island – pg 68-71 VERBS/OBJECTS/COMPLEMENTS
Practice Island – sentences 18-21
Sentence Island writing activity #2 pg 278 ACTION/LINKING VERBS
Music of the Hemispheres – pg 94-99 Meter
Sentence Island pg 72-79 LINKING VERBS
Building Language – pg 57-61 DE
Sentence Island writing activity #3 pg 278 SUBJECT COMPLEMENTS
Practice Island – sentences 22-25
Music of the Hemispheres pg 100-103 Meter writing activity using meter
Sentence Island pg 80-85 INDIRECT OBJECT
Building Language – pg 62-64, write poem and simile
Sentence Island activities pg 278-279 #4-#5 INDIRECT OBJECTS/DISCUSSION
Practice Island – sentences 26-29
Sentence Island pg 86-89 PRONOUNS review subject and object pronouns
Music of the Hemispheres pg 154-155 Meter activities
Sentence Island writing activity pg 279 #6 LINKING VERBS AND SUBJECT COMPLEMENTS
Building Language – pg 65-67 EX, write stem story
Sentence Island – pg 90-95 WHY LEARNING GRAMMAR IS IMPORTANT
Practice Island – sentences 30-33
Music of the Hemispheres pg 168-169 Analyze poem for meter
Sentence Island – pg 279 #7 writing activity OBJECT/SUBJECT PRONOUNS
Building Language – pg 68-73 EX, write poem and simile
Sentence Island – pg 96-103 COMPLEMENTS/OBJECTS/VERBS
Practice Island – sentences 34-37
Sentence Island – pg 104-108 OBJECTS/SUBJECTS/PRONOUNS
Music of the Hemispheres – pg 104-105 write poem together
Sentence Island – pg 279 #8 writing activity PREPOSITIONAL PHRASES
Building Language –  quiz on first 4 stems, SPEC pg 74-76
Sentence Island – pg 280-283 sentence analysis
Practice Island  – sentences 38-41
Music of the Hemispheres – pg 106-111 Stanza
Sentence Island – pg 109-118 NOUN VERB AGREEMENT
Building Language – pg 76-78 SPEC stem play
Sentence Island – pg 119-129 NOUN VERB AGREEMENT
Practice Island – sentences 42-45
Sentence Island – pg  292 #1 writing activity NOUN VERB AGREEMENT
Music of the Hemispheres pg 112-116 Stanza
Sentence Island – pg 130-137 REVIEW
Building Language – pg 79-81, SPEC write poem and simile
Sentence Island – pg 292 #2 writing activity PREPOSITIONAL PHRASES
Practice Island – sentences 46-49
Music of the Hemispheres – pg 154-155 Stanza activities
Sentence Island – pg 138-143 REVIEW
Building Language – pg 82-85 REVIEW
Sentence Island – pg 292 #3 writing activity SUBJECT VERB AGREEMENT
Practice Island – sentences 50-53
Sentence Island – pg 144-146 REVIEW
Music of the Hemispheres – pg 170-171 Analyze poem for stanzas
Sentence Island – pg 292 #4 activity SUBJECT VERB AGREEMENT
Building Language – Quiz 1
Sentence Island – pg 294-297 4 level analysis
Practice Island  – sentences 54-57
Music of the Hemispheres pg 117-121 Personification, Similes, Metaphors
Sentence Island – pg 147-159 PLACEMENT OF WORDS IN SENTENCE
Building Language – pg 86-90 SUPER
Sentence Island – pg 304 #1 Discussion on modifiers
Practice Island  – sentences 58-61
Sentence Island – pg 160-169 MAIN WORDS
Music of the Hemispheres pg 122-127 Personification, Similes, Metaphors
Sentence Island – pg 304 #2 Misplaced Modifiers
Building Language – pg 91-93, SUPER write poem and simile
Sentence Island – pg 170-179 REVIEW
Practice Island  – sentences 62-65
Music of the Hemispheres 128-131 Writing activity using a metaphor
Sentence Island – pg 304 #3 writing activity making sentences more clear
Building Language – pg 94-98, PRE review stems
Sentence Island – pg 180-188 MAKING EACH WORD MATTER
Practice Island  – sentences 66-69
Sentence Island – pg 306-309 Sentence analysis
Music of the Hemispheres – pg 154-155 figures of speech activities
Sentence Island – pg 189-199 REVIEW
Building Language – pg 99-101 PRE write poem and simile
Sentence Island – pg 314 #1 Complete thoughts writing activity
Practice Island  – sentences 70-73
Music of the Hemispheres – pg 172-173 Analyze poem for figure of speech
Sentence Island – pg 200-209  COMPLETE THOUGHT/TYPES OF SENTENCES
Building Language pg 102-106 POST
Sentence Island – pg 314 #2 Write dialogue with incomplete thoughts
Practice Island  – sentences 74-77
Music of the Hemispheres – pg 132-137 REVIEW
Sentence Island – pg 210-219 REVIEW
Building Language pg 107-109 POST, write poem and simile
Sentence Island – pg 314 #3 Write story with characters who can't complete thoughts
Practice Island  – sentences 78-81
Music of the Hemispheres – pg 138-144 Art of poetry
Sentence Island – pg 220-226 REVIEW
Building Language pg 110-114 PORT
Sentence Island – pg 314 #4 Discussion – Review
Practice Island  – sentences 82-85
Music of the Hemispheres – poetry assignment (1st recipe) page 151
Sentence Island – pg 316-319 Sentence analysis
Building Language pg 115-117 PORT, write poem and simile
Sentence Island – pg 227-239 SOUND OF SENTENCE
Practice Island  – sentences 86-89
Music of the Hemispheres – pg 151 poetry assignment (recipe 2)
Sentence Island – pg 324 #1 Sound of sentence writing activity
Building Language pg 118-122 DIS
Sentence Island – pg 240-249 SOUNDS OF SENTENCE
Practice Island  – sentences 90-93
Music of the Hemispheres – Poetry Test
Sentence Island – pg 324 #2 Sound of sentence writing activity
Building Language pg 123-125 DIS, write poem and simile
Sentence Island – pg 250-256 SOUNDS OF SENTENCE
Practice Island  – sentences 94-97
Music of the Hemispheres – Storm activity pg 174
Sentence Island – pg 324 #3 Sound of sentence writing activity
Building Language pg 126-128 REVIEW
Sentence Island – pg 325-329 Sentence analysis
Practice Island  – sentences 98-100
Building Language pg 142 quiz 2
Sentence Island – pg 330-335