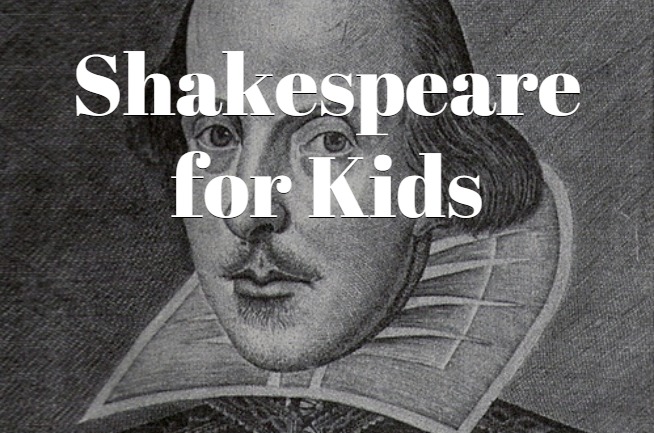 The first time I was exposed to Shakespeare was in a high school classroom.  The one and only play we read and discussed was MacBeth.  Even though we spent a long time reading and discussing the play, the archaic language made the story line quite difficult to follow.  As a result, I wasn't enjoying Shakespeare very much.
A few years ago I read an idea from another homeschooler on introducing your child to Shakespeare while in elementary school.  I decided to give it a try, hoping that my kids would connect with Shakespeare more than I did.
Around 4th grade, I introduced my children to the stories of Shakespeare by having them watch Shakespeare's Animated Tales.
You can find the whole DVD series available on Amazon. Here are a few of them that I found online:
The Tempest

Shakespeare_ The Animated Tales – 01×02 – The… by eus347
MacBeth

Shakespeare_ The Animated Tales – 01×03… by eus347
Othello

Shakespeare_ The Animated Tales – 02×06… by eus347
Around 5th-6th grade I had my oldest child read stories from Shakespeare that had been rewritten in modern English so the stories were easy to understand.  My son read Stories from Shakespeare from Geraldine McCaughrean as well as some of Shakespeare Stories II by Leon Garfield.  Now my oldest child is currently in 7th grade and he just finishing up reading his first Shakespeare play – Julius Caesar.  I asked him how it was and he said it was just a little difficult, but okay.  He knew the story ahead of time and that seems to have made his first exposure to Shakespeare's play a positive one.  He will be reading at least 5 Shakespeare plays before the end of high school and we'll have to find a place around here to see one of the plays too.
Also, this past year I discovered these two great books at my local library.  My 7th grader and 5th grader both enjoyed them.

Do you have any favorite Shakespeare resources for kids?  Please share them in the comment section.