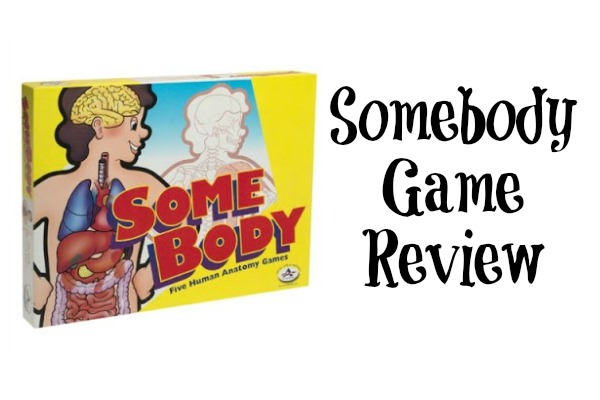 I discovered the Somebody Board Game
two years ago. At that time my boys were aged 5 and 3. Somebody is a game where each person has a page of plastic stick on body parts and a blank body. During the game you take the stick on body pieces and place them on the blank body. There are many different ways to play this game depending on your child's level. When my children were 5 and 3 we just had fun putting the stick on body parts in the position they are supposed to be in. As they became more used to the game we used the easy level of cards. We used the cards as a way to determine what piece went on the body next and the winner was the person who completed their body first.
The age level for this game is 6 and up. I definitely think it can be used for younger ages. If your child is able to sit down and play with stickers than he or she can play this game.
Today we played this game again. My boys are 5 and 7 now. My oldest son requested this game today. There are 4 game boards and two sets of cards. One set contains more basic questions and the other has more complex questions. The yellow set is for younger players and the orange set is for older players. The cards contain questions as well as experiments. The experiment cards are wild cards so you can choose any body part to add onto your body game board. Experiments may consist of things like shining a light in someones eyes to see the pupils change, walking the length of the digestive tract, or listening to someone's stomach.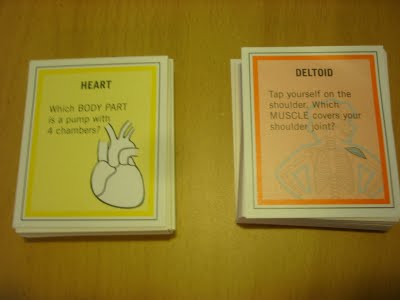 I enjoy this game. My boys enjoy this game. There is a handy chart so you will know where each body part is supposed to go. This game is not just educational, it is fun! We played this game today by just picking cards and putting the stick on body part on the part of the body the card talked about.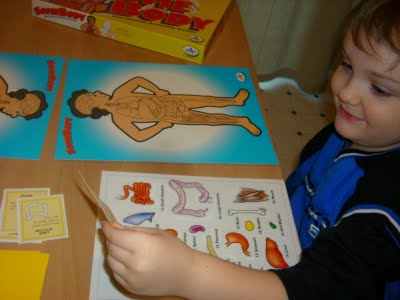 Here is my 5 year old with his finished game board.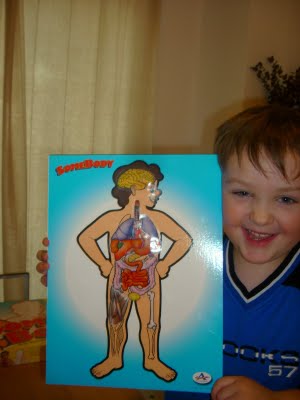 We will play this game for years to come. This game will teach the names of body parts, where they are located, and the function of the body parts.
2 years ago when we first used this game we took a field trip to a body museum for kids. We spent a least 2 hours there and quickly discovered that the Somebody game did a much better job teaching my children about their body than the body museum. I highly recommend this game. It is adaptable for preschool and usable for older ages too. It is definitely a great investment.