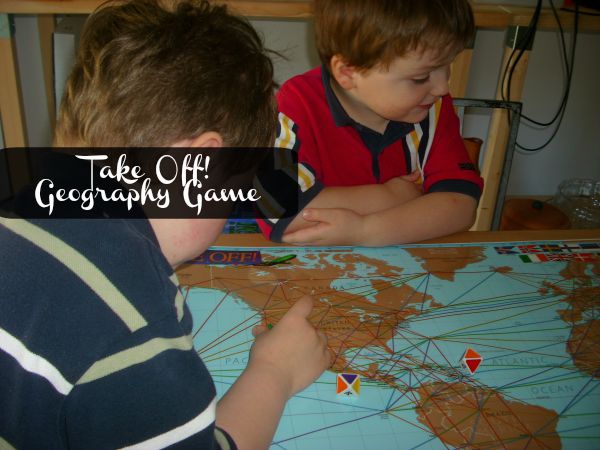 My kids like games  One of the new games we added to our stash this year was Take Off!  Designed to teach world geography, this game comes with a laminated world map complete with colored route lines.  Although it is recommended for age 8 and up, this game can be adapted for younger children.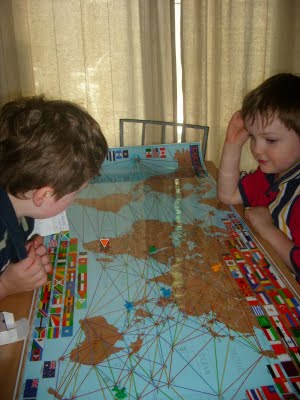 The laminated map is quite large, taking up our whole table.  The only issue we had with the game is the laminated map.  Because the map came rolled up, the edges curled up quite a bit when we put in on the table.  We ended up having to put something on each edge to keep the map flat.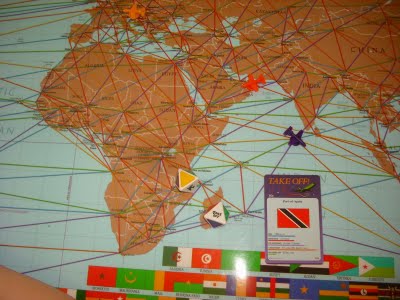 The game comes with different colors of airplanes, two sets of cards, and a set of dice. When it is your turn, you roll the dice. The dice show different colors of routes, the words Take Off, or an airplane. If you roll an orange and blue then you would move your airplane on an orange path and then a blue path. Or you would move one airplane on a orange path and one on a blue path. If you roll a Take Off you pick a card and your plane goes to that location.  If you roll an airplane then you can choose any color route. All players start on Hawaii and end on Hawaii. If you happen to land on the same space as another player you bump them back to the beginning.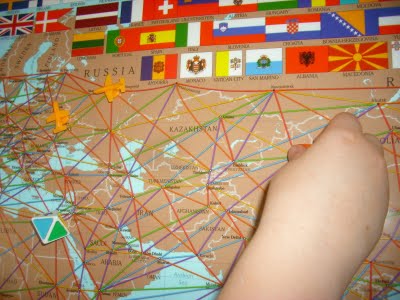 It is a fun game and full of learning for children and adults. My boys are aged 5 and 7. Reading isn't even required for all players. As long as one person can read the cards and find the location on the map it is adaptable for younger ages. The airplanes are small and some routes are tiny. My boys are wiggly and often the board would get bumped and the locations of the planes would change. You can choose how many planes you want to use. If you use one plane the game will go quicker. If you use four be prepared for a long game. We have played with two planes each and the game has taken about 45 minutes. Looking forward to playing this game over and over for many years to come.