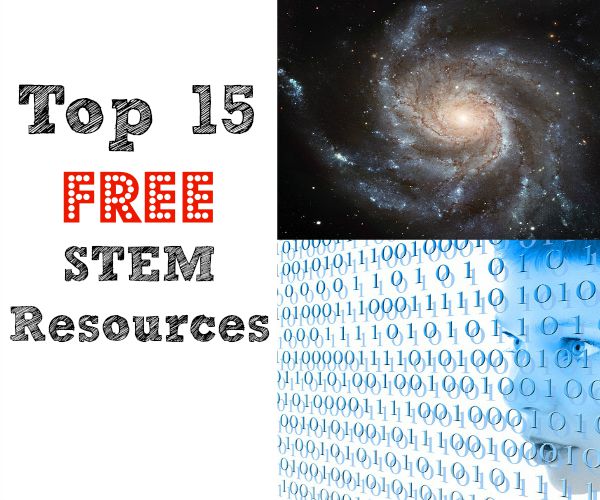 It is easy for science, math, engineering, and technology to be money hogs.  There are so many excellent kits and maker materials out there, but the cost of those items add up.  Over the years we have discovered some excellent STEM resources that will cost you nothing.  All of these resources have been enjoyed by at least one of my kids.
1.  Space Engine
This is an amazing space simulation program that is free to download. Travel to real and imagined planets and see them in 3 dimensions.  Check out a video of some of the things you can see.  Click here to go to their website.
2.  Khan Academy
You will find a wealth of information at Khan Academy – all for free.  They cover math, science, economics, art history, computer science, and even test prep for high school and beyond.  Their unique badge-earning framework does a good job keeping kids engaged.  Click here to go to their website.
3.  Codecademy
Want to learn to code?  This free website will teach you HTML, CSS, JavaScript, Python, and much more!  Similar in design to Khan Academy, earn badges as you learn to code.  Click here to go to Codecademy.
4.  Scratch
This excellent program is designed to introduce children to computer programming. It provides a platform that will familiarize your child with the concepts of coding while making projects that can be uploaded and shared with others.  Check out this video and be sure to go to their website.
5.  Engineering Adventures and Engineering Everywhere Curriculum
These curriculum units feature hands-on design challenges.  All items are available for free including the teacher's guides.  The curriculum is designed to be used in after school programs, but can be adapted for the home.  Engineering Adventures is designed for grades 3-5 while Engineering Everywhere is suitable for grades 6-8.
6.  Phet Interactive Simulations for Science and Math
We love this free resource.  Find simulations for physics, biology, earth science, chemistry, and math.  I like using some of them in place of labs that require hard-to-find or expensive equipment.  They have simulations at all levels from elementary to university.  Check out their website here.
7.  Zooniverse
Do actual science research.  Use your eyes and ears to record information that will provide data to scientists.  Choose from projects in astronomy, biology, earth science and more.  Check out the current projects here.
8.  Alcumus
Alcumus is an online math learning system that covers prealgebra, algebra, geometry, and more!  It is designed to be used along with the Art of Problem Solving math books, but it can also be used alone.  Alcumus adjusts to give you harder questions if you are getting things right or more practice if you are having trouble.  Check it out here.
9.  Orbiter
This free 3D space flight simulator gives you the opportunity to launch a spaceship, tour the solar system, and design your own rocket.  It can be used on a Windows PC.  Check it out here.
10.  Blender
Blender is a opensource 3D graphics and animation software. My son has been using this one for a couple years and is getting more comfortable with it.  Youtube has lots of tutorials to help you figure things out too.  Check out the Blender website for more information.  This video represents some of the things Blender can do.

11.  Edheads Virtual Science Activities
This website offers some amazing science simulations that show math and science in real life.  Choose from activities like Crash Scene Investigation, Virtual Knee Surgery, Design a Cell Phone, and much more. Activities are available for 2nd grade up through 12th grade.  Check out the Edheads website.

12.  Cell Craft Game
Explore the world of microbiology in this fun game.  Build a cell and fight off viruses as you play the part of a simulated cell.  You can find the game on the Kongregate website.
13.  Periodic videos
This is a great resource!  This website features short videos on every element in the periodic table.  Periodic Videos didn't stop there.  They have continued making more videos about elements and chemistry.  Check out their channel on Youtube.  Here is a sample video for the element Boron.
14.  Numberphile videos
I can thank Numberphile for igniting my son's love of math.  On the videos, math lovers discuss math concepts and often relate them to day to day life.  Numberphile does have a website where you can access their videos.   I prefer using their Youtube channel directly.  Their chicken nugget video is a definite favorite in our household.

15.  Vi Hart videos
I discovered Vi Hart several years ago and found her videos quite mesmerizing.  She combines art with math in a way that makes you look at math and art differently.  Vi Hart often declares that math class is boring so she starts doodling while playing around with math concepts much more complex than what would have been covered in her math class.  Check out her Youtube channel.
Do you have a favorite free STEM resource that isn't listed here?  Please share a link in the comments.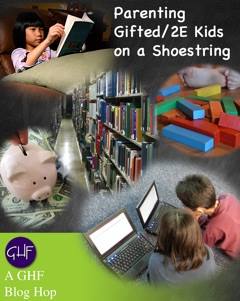 Also, be sure to check out the Gifted Homeschoolers Forum's bloggers who are talking about how to parent gifted/2E kids on a shoestring.