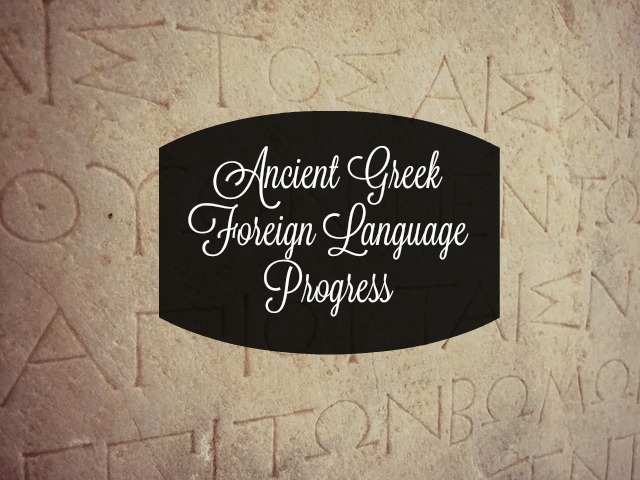 This has been an interesting year for our Greek studies.  I started out my oldest in a free online Koine Greek program.  I guess it is true what they say about free things.  While it looked like a great program, it was difficult to use on a regular basis.  I went in search of something else and chose Athenaze because of the reading emphasis and the inclusion of portions of New Testament into each chapter.
We had planned on learning Koine Greek only, but Athenaze seemed to be the right fit for us so we are going the ancient Greek route.  It will enable us to read Koine Greek as well.
My younger son started the year in Hey Andrew
.  As the year progressed, he moved into book 3.  Books 1 and 2 gave him a good grounding in the Greek alphabet, but book 3 started to teach grammatical elements.  It was confusing to him and confusing to me as a teacher.  I dropped it and decided to give Athenaze a try with him.  He had to relearn a few letters and the sounds they made because Athenaze uses a different pronunciation than Hey Andrew.  Within a few months he made so much more progress than he did over the last few years.  Here is a little video of his progress.
Here is my 8 year old reading from the first chapter of Athenaze Book 1.  We have practiced reading and translating this paragraph 2-3 times now and will move onto the grammatical instruction in this chapter when this becomes easy for him.

My older son really enjoys Greek and I have to work hard to try and keep up with him.  He can read most any Greek text right now, but that is simply decoding.  He is learning the vocabulary, accents, and grammar as we go through the book.
Athenaze is a very economical choice.  While it isn't cheap it is something that will take us several years to complete and it can be reused for each child.  Hey Andrew was consumable and needed to be purchased yearly.