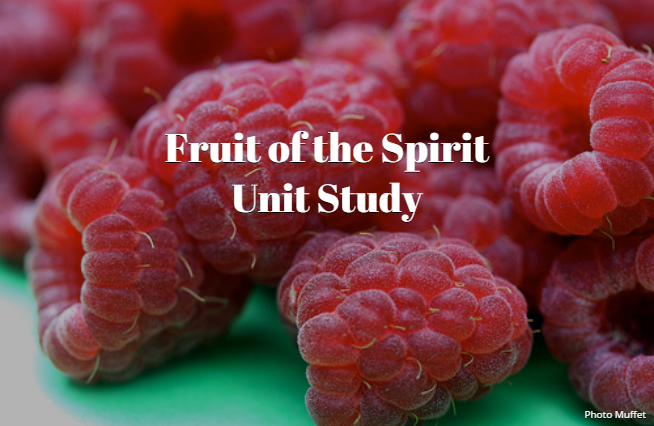 For part of our Bible time this school year I wanted to teach my kids about the fruit of the Spirit.  I looked at tons of different studies out there that were written for kids, but most of them taught children that the fruit of the spirit are commands.  I even found one study that taught about the fruit by learning about the works of the flesh in the preceding verses in Galatians.
I wanted to teach it from the perspective that the fruit is what God grows in you and out through you.  I wanted them to learn what goodness (or any of the other fruit) looked like and how goodness impacts ourselves and others.  I went to the library and I looked through tons of books and was coming up empty.  I wanted stories that showed day to day faithfulness or love.  I found a handful, but many of them were ones with one of those moral to the story endings.  Let's just say I didn't have much success and I'm pretty picky when it comes to my children's spiritual education.
I discovered some picture books that fit with what I wanted and dug a little deeper and found a bit more that showed fruit in action.  I'm listing the books I'm using this year and we are probably only reading about one a week and talking about what fruit we find in the story.  These are secular books and we talked about how many non-Christians act in great kindness and love.  We talk about how Christ-borne fruit goes beyond what humans normally do like love for enemies and goodness toward those who don't deserve it.
I found these books to give my kids examples of what love can look like and they offer a jumping off point for discussion.
Have You Filled a Bucket Today?

The Hundred Dresses

Boxes for Katje
– generosity, love, kindness
The Steadfast Tin Soldier
– faithfulness
Christmas in the Trenches
– goodness
The Quiltmaker's Journey
– giving
Wangari's Trees of Peace: A True Story from Africa
– faithfulness
Wilfrid Gordon McDonald Partridge
– kindness
Lily and the Paper Man
– giving
Chicken Soup for the Soul Family Storybook Collection
(The Goodness Gorillas) – goodness
Chicken Soup for the Soul Family Storybook Collection
(The Best Night Out With Dad) – giving
Chicken Soup for the Soul Family Storybook Collection
(The Never-Forgotten Doll) – giving
Somebody Loves You, Mr. Hatch
– love, kindness
Enemy Pie
– love, kindness
Dogger
– giving, love
Fireflies
– joy, kindness
The Quiltmaker's Gift
– giving, joy
Beatrice's Goat
– giving
Peach and Blue
– love, kindness
The Empty Pot
– patience, faithfulness
Stone Soup
– giving
The Happy Prince
– giving, love
The Teddy Bear
– giving
Chicken Sunday
– generosity, love
Mr. Tanen's Tie Trouble
– giving
One Winter's Day
– love, kindness, goodness, giving
How to Heal a Broken Wing
– kindness, goodness, gentleness
Miss Tizzy
– kindness, love
Chicken Soup for Little Souls: The Braids Girl– kindness, giving
The Lady in the Box
– kindness, giving, goodness
Fly High, Fly Low
– kindness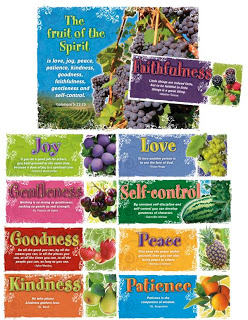 I did purchase a Fruit of the Spirit Bulletin Board Set which I have up on my wall this the school year.  We refer to it during our discussions.  I also have a list of memory verses printed out and posted on the wall. While I call them memory verses, we aren't trying to memorize them.  I may have us read a verse several times together and then we discuss the meaning of it.  My main goal is discussion and understanding of what the text is saying.  If memorization happens in the process it is a bonus.
Here are the texts I selected:
Love – 1 Corinthians 13:1-8
Joy – James 1:2-4
Peace – Philippians 4:6-7
Patience – Romans 5:3-5
Kindness – 1 Thessalonians 5: 15-16
Goodness – 2 Peter 1: 3-8
Faithfulness – Colossians 3:23-24
Gentleness – James 3:17-18
Self-Control – 1 Corinthians 9:24-27
I am using this study for my boys who are currently 9 and 11.  While picture books are typically used for a younger crowd, I don't think a person should ever outgrow them.  They enjoy the snuggle time and the discussions that follow.