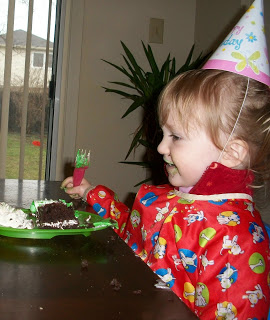 My little girl is growing up and is now preschool age.
She recently had her 3
rd
birthday.
The plan at this point is to pretty much continue doing what we have been doing.
What is that?
We plan to:
Encourage and develop pretend play skills through expansion of her current play skills.
Research shows that the cognitive benefits are greater if young children have time to develop extended pretend play sequences than if they focus time on early academics.
To encourage this I typically provide toys that lean towards pretend play such as toy dishes or dress-up clothes and give her time to play.
Basically all her day aside from mealtime can be playtime.
Naptime is pretty much nonexistent for her now.
To expand her play sequences I may do something like pretend a food she served me is too hot, or I may spill it by mistake, or I may give her my served food and talk about how dirty my dishes are now.
In other words, I try to expand how long she can play on one topic and attempt to create more complexity in her play.
Encourage messy and active play
.
We will be outside quite a bit during the spring and summer and I find that is the perfect place for messy play.
It keeps the mess outside!
She received a mud pie maker toy for her birthday so I expect more messes to come.
She loves getting messy and can get markers and PlayDoh everywhere.
Going outside more should make everyone happy.
Encourage fine motor skills.
We do this by providing her with crayons, Play Doh, paper, pencils, and chalk.
Markers and paints are a great love, but we may have to relegate them to outside for a little longer.
Encourage early academics through play
Letters, letter sounds, counting, shapes, and colors are approached through play.
LeapFrog letter magnets have already taught her many letters and letter sounds.
Many things will just come up in playtime like my daughter might want to stop and count the stairs as we go downstairs.
Continue to expose her to the computer.
I would like her to learn to use the mouse.
She will be able to independently access many fun and educational computer games that way.
She is starting to get the hang of using a mouse, but is not independent yet.
Participate in any school activity she desires.
She may want to join in with her brothers from time to time.
While I have no plans to do anything schoolish with her she will probably want to continue to join in with some of her brother's activities.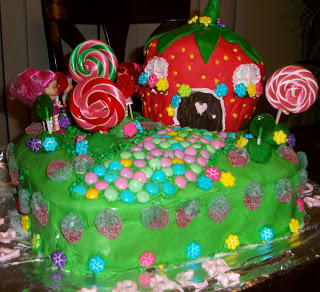 Her birthday cake.  It is a Strawberry Shortcake cake with lots of candy!