My little girl is growing up.  Although she started some formal learning last school year, it was mostly when we could fit it in.  This year she gets her own unit study and book list and one-on-one time for foreign language.  Last week I had parent-student conferences with my boys to go over the school year and talk about what was important to them and how they wanted their day to be structured.  My little girl wanted to sit on my lap and hear about all the things she will get to do this year.  When our time was done she flew off downstairs to share her excitement with her brothers.  Since I have homeschooled my older children from the beginning she has been around a homeschool environment since babyhood.
Her first year: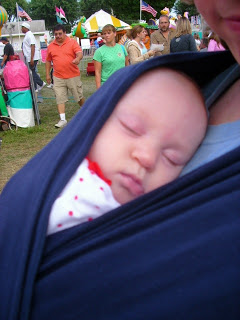 Getting comfy and going to sleep in her Moby Wrap made school time easier when she was acting fussy.  When she grew a little bigger I just moved her to an Ergo Baby Carrier and we just continued on our school day with her right there sleeping away.  She played right next to us and needed lots of attention.   She even "participated" a little.


2nd year: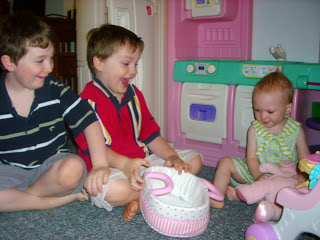 The next year she was a super active toddler.  I like to get a picture of all 3 of my kids together at the start of the school year, but this year it was almost impossible because she wouldn't stay in one place.  Instead, I had my boys keep going to where she was and I was able to capture her playing in her kitchen which was a main part of our school room.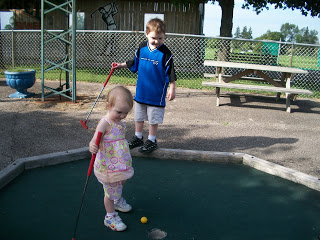 I had a couple play yards that I put together to make one long barrier to keep her away from areas of danger.  She ran around and played, nursed, and once again I used the Ergo Baby Carrier for fussy and naptimes.  I just whisked her up there and used that time to do read alouds.  Reading on a comfy couch would have been preferable, but it worked and my toddler was happy.  She mostly played, but did enjoy participating in things like our field trip to a mini-golf course as part of our Scotland unit study.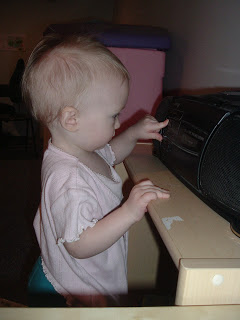 Yes, plenty of mischief happening too.
3rd year: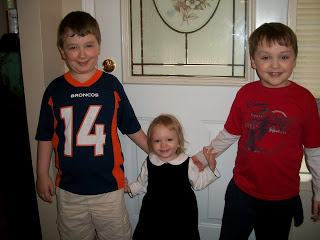 The next year she was 2 years old and spending most of her day playing right beside us.  Anything she thought was fun she wanted to do too.  Towards the end of this school year she quit napping which allowed us greater freedom with our time.  There was no problem snapping a picture this year because she turned out to be a little ham when it came to the camera.
While play and fun were high on her agenda she also liked to imitate her brothers.  Here she sat down beside her oldest brother and was "reading" her Bible too.
4th year: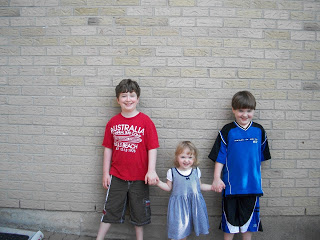 I had originally planned to start formal schooling with her after she turned five, but that is not how the next year went.  This year she was three and enjoying playtime as usual for the first part of the school year.  As the school year progressed she wasn't satisfied with just play.   She was very interested in letters and numbers so I attempted to feed her hunger and dabbled a little in formal schooling towards the end of the school year.  She loved it.
As the school year progressed she was participating more and more.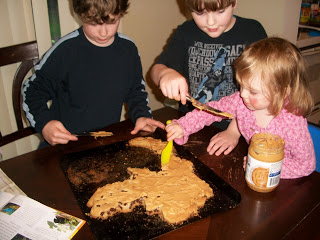 She jumped at doing things like our edible maps for geography.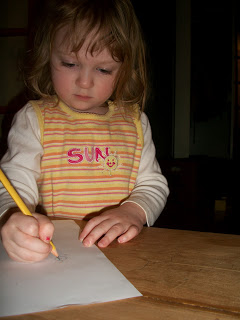 Here she was trying to follow along a art instructional DVD.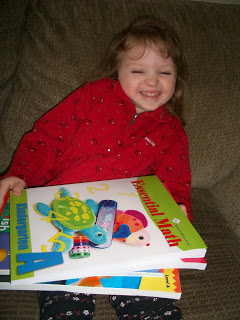 I bought her the start of the Singapore Math series as well as a few phonics workbooks to go along with the phonemic awareness activities we were doing.
That leads us to now.  We start our school year in a couple weeks and she will officially be in K4.  I was surprised last school year when I learned that my daughter's birthday fell within the range for Kindergarten registration for this coming school year.  Children have two years of Kindergarten here.   She seemed so young still.  She is young, but she is ready for more.  So we will do more and she will get to do a unit study this year that was designed just for her.  She will get to have her own one-on-one time for foreign language.
I usually start with full days in Kindergarten, but that is a 5 year old Kindergarten.  When I say full days I refer to limited seatwork and lots of activities.  For K4 her longest day of activities/school work will be under three hours with most of that time in activities.
I'm looking forward to watching her continue to blossom into who God made her to be.  I loved her early years and we have many pleasant memories of that time tied to homeschooling.  I look forward to many more memories and years together.