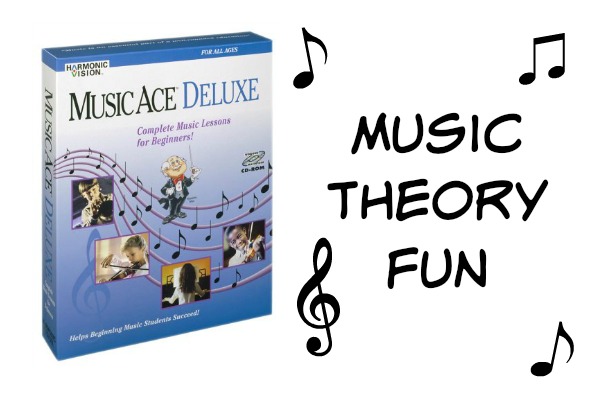 Back when my boys were young and we were still new to homeschooling, I purchased Music Ace Deluxe
.  Over the past 7 or so years we have made good use of this amazing program.  It truly does make learning music theory fun.  I've used this with a child as young as 5 and it can be used by an adult as well.
Music Ace Deluxe
is a computer program that teaches your child the basics of music theory, rhythm, pitch, reading notes, and listening.  We have used it on and off through the years to give my kids exposure to music theory.  I'd say that it has done a good job instructing my kids.  When they have encountered music theory while learning their instrument, many times they have been able to skip that portion because they already understood the concepts.
There are 36 lessons in total with a game related to each lesson.  As your child progresses through the lessons, it keeps track of your child's progress as well as the high scores for the games.  We have used it on and off for many years and none of my kids have completed the series of lessons.  There is quite of bit of content on this program.  If you have an older child, I can see this program being completed in 1 year with a couple of hours of time spent each week.
The composition tool on the program has been a favorite.  You can choose the notes and the instruments.  When done, click a button and you can hear your composition play.  The only issue we have had is in saving the compositions.  It gives us an error when we attempt to save them.
I had music theory in school with boring workbooks as part of my music lessons. I wish I had Music Ace Deluxe
back then. What a great tool to learn music.
As a parent you don't have to know any music to use this program. The computer program does it all. Approach with care. You may find yourself wanting to learn music theory along with your kids!