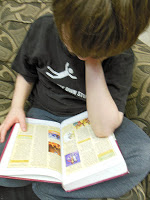 I've stumbled through many language arts resources for my visual-spatial learner.  He learned to read with ease, but had difficulty with phonics and spelling.  He loved to write and would write interesting little stories full of creativity, but there would be no punctuation or capital letters.  Handwriting was a struggle with incorrect letter formation, reversals, and holding the pencil incorrectly.  I think a great part of the handwriting difficulties were due to the fact that my son taught himself to write at the age of 3 using a Leapster game.  I didn't start handwriting instruction until 1.5-2 years later.  By then he had been writing incorrectly for a long time.
I had my son undergo psychoeducational testing at the end of second grade.  It did confirm that he had a strong visual-spatial learning style.  The visual-spatial learning style can be accompanied by auditory-sequential difficulties.  One reason I was interested in the testing was to see if there were any issues in his auditory-sequential skills.  In first grade we spent a lot of time working to improve his ability to listen to books read aloud.  He had little attention for chapter books read aloud until the end of his first grade year.  Now, he loves listening to books read aloud.  While he didn't have any difficulties with auditory-sequential skills, his visual-spatial skills were much stronger.
I read about visual-spatial learners online and read books on the topic.  I tried the suggestions and wasn't finding much success – at least not much more success than I had achieved with other methods.  What now?
Spelling:
The examiner had mentioned a spelling program that sounded similar to Sequential Spelling.  I already owned that and had tried that with my other son.  I found it quite boring to use so I wasn't eager to use it again, but I did.  It didn't seem to make a big difference.  The little tests in the book showed that my son was continuing to misspell words that he already misspelled.  Some words were corrected over time, but others were not.  It seemed like he needed more practice with misspelled words and less time spent spelling words that he already knew.  I then discovered AVKO's Individualized Spelling which is also produced by the makers of Sequential Spelling.  Yes, finally something where I saw remarkable progress!
Reading:
Reading came quite easy to my son when he first started to read, but phonics was challenging.  We completed a phonics program and did phonics-based spelling for awhile before moving to Sequential Spelling.  Reading has been more of an issue the last few years.  He doesn't enjoy sitting down with a book and most chapter books are what he would call boring.  He likes books with pictures.  I had attempted to move him to silent reading for quite awhile, but he would tend to skim a book and not be able to remember any details.  He could read quite well, but chapter books were rarely interesting enough for him to focus on the story.
The Visualizing and Verbalizing program was recommended to me by another homeschooling parent when I began to wonder if my visual-spatial learner was visualizing as he read.  It turns out that he had not been visualizing anything.  After our first exercise using Visualizing and Verbalizing he was able to tell me every single detail in a paragraph he had read a week earlier.  Hmm…this visualizing could make a big difference.  I am currently continuing to use the Visualizing and Verbalizing curriculum with him.  It is getting easier, but he is not at the point where he is visualizing big chunks yet.  It is a time consuming process for him, but I see how continued practice can be very beneficial for his reading skills.
I decided to go a totally different direction with reading this year in 4th grade.  I started out choosing a bunch of science fiction books that he would read with his brother, but was running into the same problems – they were too boring!  He loves science fiction, but doesn't like reading it.  He said he wanted short stories and not chapter books.  I thought about it a bit and tried to find something that would work.  I showed him a few things, but he didn't like them.  He heard about the option for a workbook and told me that he wanted a workbook.  Huh?  I thought that an anthology with a workbook would not be a good fit with a visual-spatial learner.  Apparently, he liked the idea of a worksheet asking him specific questions with answers he could find in his book.  The more open ended questioning about what he read or asking specific questions from the chapter had frustrated him.
I searched and searched to find a reading program that would be interesting, give him quality literature to read, and give him reading materials at the right level.  Finally, after much searching I decided on a rather unknown curriculum in the homeschooling world.  The AGS Globe Exploring Literature
curriculum from Pearson seemed like a good fit.  It had interesting literature selections, pictures, quality writing, and it taught literary concepts.  This curriculum was rather unique.  It was designed to be used in high school by students who were having difficulty.  The instructional materials about literary concepts and the workbook are written at a 3rd and 4th grade level, but the literature is at a higher level.  The more unfamiliar words in the text are bolded and defined at the bottom of the page.  This was a plus for my son who tended to just skip over unknown words when reading.  He is just nearing the end of the first unit and he is happy.  I see that he is learning new vocabulary, literary concepts, and is reading quality literature.  That makes me happy too.  I'm hoping that with a little maturity and more practice visualizing we will be able to make the move to full chapter books in the future.
Handwriting:
Handwriting is off and away.  After several years of reversals, incorrect pencil positions, and incorrect letter formation we are now at a good place.  For awhile there I thought about giving up and just let my son write his letters incorrectly, but I decided to give a burst of consistency to the issue first and he conquered it towards the end of 3rd grade!  Now in 4th grade he is well on his way to knowing cursive.
Writing:
Writing has been another issue that I have pondered.  Towards the end of last year I researched all the different options out there and considered what we had done and what wasn't working.  My son could write a pretty good sentence and had no difficulty on the creative front.  The greatest difficulty came when he had to use capitals or punctuation.  They just weren't used.  We had covered those topics for years, and the concepts just weren't sticking.  It was like he was focused on creating and didn't pay attention to the details.  So, after much deliberation I decided to try an auditory-sequential method of teaching writing.  I chose the Classical Writing curriculum.  I never thought I would ever use the classical method for writing, but I liked where the curriculum ended up and thought that it was possible that it might work.
At the end of 3rd grade I started my son in the first Classical Writing Aesop book.  Now we are nearing the end of the 7th week in the curriculum and I have seen a drastic change in his use of punctuation and capitalization.  He is also doing well with organizing his writing and narrating back the stories.  He still has a ways to go, but I've seen enough progress to want to keep on this track.  I've often wondered why this might be working so well for a visual-spatial learner.  There is a lot of repetition.  He has to memorize the rules for capitalization as well as grammatical concepts.  These aren't things that would appeal to a visual-spatial learner from what I have learned.  Maybe it is because he does have some good auditory-sequential skills or maybe it is because he needed a more consistent auditory-sequential approach to a skill like writing.  Either way I'm happy with the progress.  We are also slipping in 6 weeks of concentrated creative writing with NaNoWriMo so he does still get a chance to formally practice creative writing.  He loves creative writing.
Grammar and Vocabulary:
For grammar, I've attempted a more creative approach with a lap book, Mad Libs, and living books, but opted for a sequential approach that slowly built up skills.  Rod and Staff Grammar seems to be working, but really I've seen the best gains for grammar through studying the grammar of a foreign language.  Vocabulary is fun this year.  We are using Ellen McHenry's Excavating English
and he loves it.  It is a different approach to vocabulary by learning the history of the English language.
So, I'm thinking that perhaps there is no right way to teach a visual-spatial learner.  I'm still figuring it out.  I'd love to hear your thoughts about visual-spatial learners.