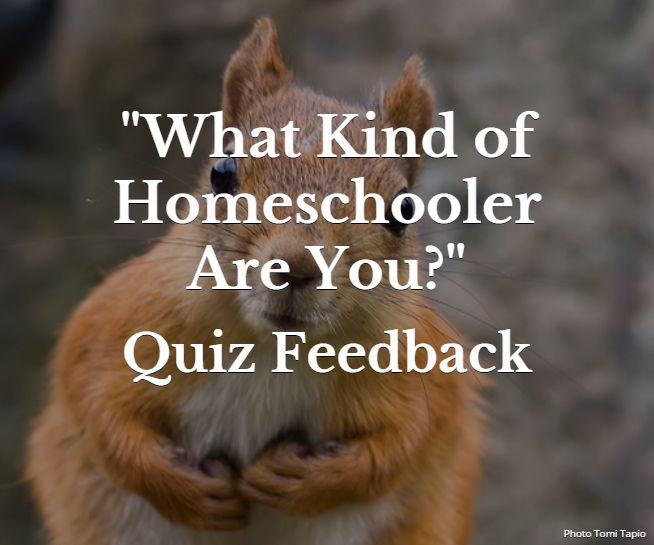 If you have recently taken the "What Kind of Homeschooler Are You?" quiz, I'd love your feedback.
I'm listing the questions from the quiz according to their categories.  If you think a question should be worded differently or if you feel that an important part of the philosophy is not reflected in the questions, please share your feedback in the comment section.  If there is an approach that I missed, please share that as well.
Classical
Great books from history and literature should be used in place of textbooks.
Learning to write clearly and use elegant language is important.
I desire my children to have a rigorous education.
Latin and logic are important subjects.
Instruction should be language-based with little use of screens.
Waldorf
Art, music, gardening, and foreign language are important subjects.
Early childhood should emphasize creative play and formal learning should be avoided before age 7.
Social responsibility, empathy, creativity, and free thinking are important in my children's education.
Learning is best done in larger blocks of time.
Avoiding screens for children who are elementary age or younger is important.
Traditional (School at Home)
I want to use curriculum similar to what is used in public or private schools.
I prefer to purchase grade-level curriculum packages that are planned out for me.
Being able to transition into a public or private school classroom is important.
Tests and grades should be given in elementary or middle school.
Our learning environment looks like a mini-classroom.
Unschooling
Child-led learning is important.
The parent's role is to facilitate the child's education and not to teach.
Children will learn when they are ready.
Learning is more effective when the child is interested.
Learning how to learn is a priority.
Thomas Jefferson
Early elementary years should focus on exploring the world with no formal lessons.
Discussions are a major part of learning.
A child's passion for learning should drive their education.
Education is the child's responsibility.
Parents should study and read while the child studies and reads.
Montessori
The parent's most important job in education is to teach the child how to learn.
Parents should model a love for learning, a love for work, a curious nature, and read a lot.
Education should include practical activities like household chores or handcrafts.
Children should have long periods of uninterrupted time for child-led study.
Children should learn at their own pace.
Charlotte Mason
Short lessons with focused attention are better than big chunks of time.
Living books are a great tool for learning.
Learning ideas is more important than memorizing facts.
Children should spend lots of time outside.
It is better to study a wide variety of subjects than to focus mainly on reading, writing, and math.
Unit Studies
Lessons that can be used with multiple ages and grades are best.
Topical studies are a great way to learn.
Incorporating many different subjects into one study is preferable.
Living books, projects, and activities are preferable to textbooks, workbooks, and worksheets.
Topical studies help children make connections between subjects.
Help us make the quiz better.  We'd love your feedback!