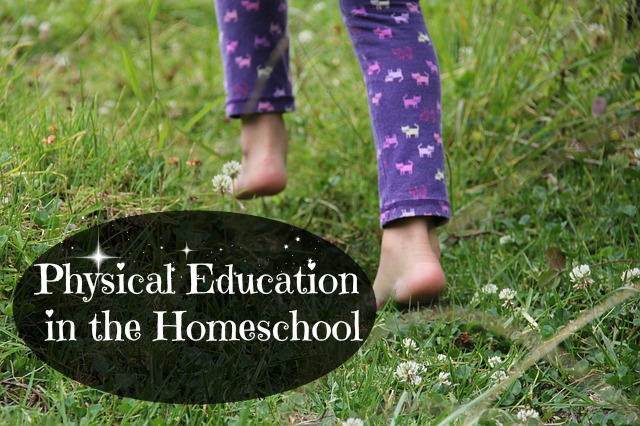 Physical Education is something we are focusing on this school year.  I know many homeschoolers find their kids get lots of exercise if they send them outside to play, but my kids would just go sit down in the dirt and play.
So we are working in two exercise times into each school day.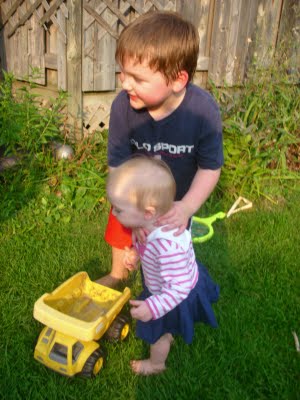 In the morning we have a 15 minute time where we all head outside and play freeze tag. I didn't remember the exact rules from my childhood so we made up a version that worked for 3 people. We each have turns tagging others. If a person is tagged they have to freeze and remain frozen until the other person being chased touches them. If both players are frozen then the turn is done. We have a small yard so there is a lot of running and turning and changing directions. The person doing the chasing only has two minutes to freeze both people. My boys love this game and it is really a good workout for all of us. They run and run and run for almost a solid 15 minutes.
In the afternoon we are learning how to play team sports without the team. They are trying out baseball (or should I say tee-ball), soccer, basketball, and flag football. They are really enjoying all of the sports, but tee-ball is the favorite so far.
My toddler is out there with us running around, but she mostly goes after any flowers she can find. She will occasionally snatch the ball and we have fun with it and pretend she is playing with us. For most of the sports we have a team of two and a team of one. The team of two has to focus on passing the ball. We alternate who is on the team of two and who is solo. For tee-ball my boys are on opposite teams and I am the umpire 🙂 One son will hit the ball and run around the bases. The other son has to tag him with the ball before he reaches home plate. Because there is only one on each team the hitter has to make it to home in order for the run to count. We usually play games like this for 20-30 minutes.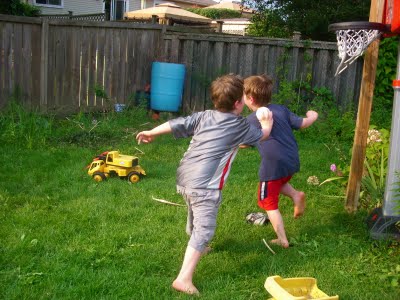 Physical education is something we have to purposefully set aside time to do because it isn't something my kids naturally do.  All of their interests are sit-down activities so introducing active play into their school days is a must.
What do you do for physical education in your homeschool?