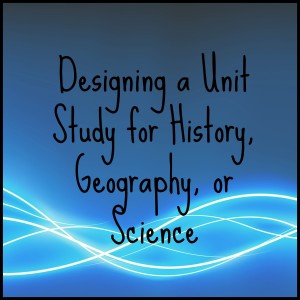 This post is part of the Virtual Curriculum Fair.  The topic this week is social studies and science.  We have enjoyed exploring social studies and science through unit studies.  Our love for unit studies all began when my oldest child was 5 and very much into dinosaurs.  As we embarked on formal schooling, I asked him what topic he wanted to study.  Of course, he chose dinosaurs.  I haphazardly pulled together some books, videos, and activities and put them in a logical order.  It was his favorite part of school.  I don't think this was just because of the dinosaur topic.  Unit studies were very conducive to discussions and bunny trails.  It was an enjoyable time for both of us.
So the next school year, I jumped into unit studies even more by doing history and geography studies with my boys.  They loved them.  Because my boys were little, our unit studies were very much hands-on.  As they grew, we did lots of history, geography, and science unit studies.  I'm now starting to reuse some of these unit studies for my youngest child.
Some unit studies cover many different subject areas in one study.  I didn't really like that approach, so we just covered the one topic in depth. There are no math activities or language arts activities woven in.  We do encounter math, language arts, art, music, and more in our studies, but only do so when it comes up naturally (i.e. listening to Italian music when learning about Italy).
So here are my 5 steps to creating a unit study on a topic.
1.  Choose a topic
Keep your topic as wide or narrow as your like.  I prefer to be a little more focused because it makes the study easier to complete.  So, I might put together a study on the human body instead of a broad one on biology.
2.  Find a suitable spine.
A spine is a book or books that cover your topic.  Head to your local library and find a book on the topic that seems to cover the areas you want to cover.  Sometimes I end up using several books instead of just one book.  But usually, it works best to choose a book that covers your entire topic well.
3.  Use the spine to guide your study
The spine has already done much of the work for you.  Use the organization of the topic found in your spine.  Write down the order of topics and if you want to read some of the spine for your study, note the page numbers.
4.  Fill in your study
Now that you have the organization of your study all set, fill it in with activities, videos, books, or games.   Consider what your children will enjoy.  If you think they would enjoy making a scaled Noah's ark out of brownies, do that.  If you think they would really like a card game on the topic, build that into your study.  I designed our unit studies with things my kids would enjoy.  Sometimes they are video-focused or art-focused or full of hands-on activities.  I tend to avoid things that look complex or expensive.  I also don't add anything that I'm not wanting to do either.
5.  Write everything down in the order you plan to do it.
Write down the page numbers for any books and whether or not it is a library book.  Write down any activities and record any links to projects you find online.  If you need materials for anything you are doing, write that down as well so you can make sure to have them on hand.  Then you are all set.  Check out some examples of our lists in one of the unit study links below.  I often put my unit studies on this blog because they contained online video links.  It make it easy to use.  I just came here and clicked on the links.
We like exploring things in depth.  The studies have changed as my children have grown, but each time I have sought to fill in the study with things that my children would enjoy.
Our Science Unit Studies:

History Unit Studies
Geography Unit Studies
We aren't the only ones participating in the Virtual Curriculum Fair.  Be sure to check out how other homeschool families approach learning about social studies and science.
Hearts & Minds