My 1st grader and I are exploring a variety of topics in science through her Magic School Bus unit study.  Because my daughter loves creating things in the kitchen, we naturally decided to do an edible art project.  The idea was to simply recreate a tide pool.  So with an idea in mind and a few materials on hand, we gave it a try.
This project involved marshallows, melting chocolate, jello, and some gummy candy.  To start with, I melted some white chocolate in a double boiler and put in a little black food coloring to make it a bit more of a rock color.  I used two sizes of marshmallows that were to represent the rocks.  We dipped the marshmallows in melted chocolate and placed them in a casserole dish.  The bottom was covered with marshmallows and then we built up the sides.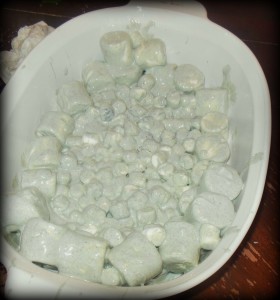 Once it was all built up, my 1st grader placed some anemones (berry gummy candy) around the bottom.  She then placed some cut-in-half Coke bottle candy around the edges and at the top to represent snails.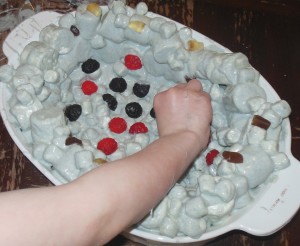 Once that was a little firm, we put in the first layer of jello.  We were unable to locate any blue jello around here so we used yellow and green and put some blue coloring into each.  We used green for the lower level.  We put some gummy fish into the Jello.  Once the first layer hardened, we added another layer of blue-tinted yellow Jello with some more gummy fish.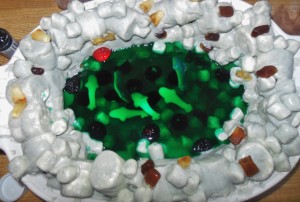 I had originally planned to remove the tide pool from the casserole dish when done, but I didn't have any wax paper on hand to line the dish.  When I attempted to take it out, it looked like it would fall apart so I left it in the dish.  It is a good thing too since some of the Jello had leaked through the marshmallow rocks even though we were careful to plug any visible holes.
This was a fun project to wrap up our short study of tide pools.  Not only do my kids enjoy creating in the kitchen, but I enjoy not having a project to stash somewhere once completed. This one was slowly eaten until it disappeared.