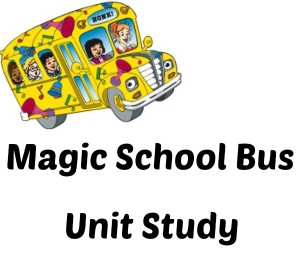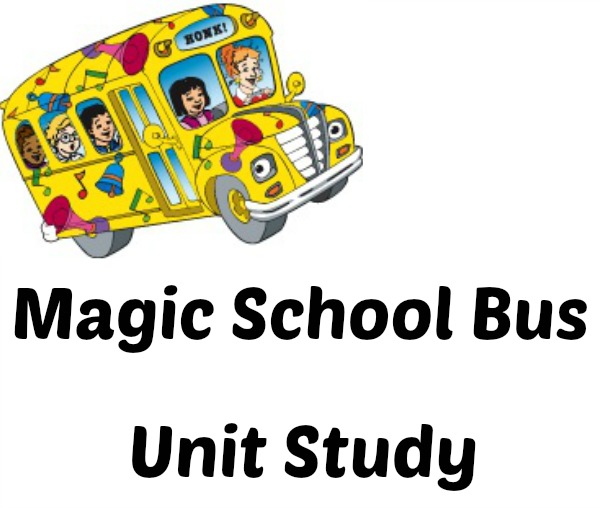 My 6 year old loves Magic School Bus.  It has really fostered a love for science in her.  I'm taking a bit of that love and exploring the Magic School Bus science topics more in depth with her in the upcoming school year.  Basically, each Magic School Bus show is paired with a book and an activity.  I chose the books and activities based on what I thought my daughter would enjoy.  The books I chose tend to have more in depth information than what is presented on the show.   Sometimes I read books word for word and other times I use them as a discussion tool or I skip around based on my child's interest.
I expect this study will take us more than a school year.  There are 50+ episodes, 50 or so books, and 50 activities or experiments.  Some will take longer than others, but I would say that the minimum is about 90 minutes for each topic.  My goal here is to cover a broad range of science topics and see where my daughter's interests lead.
I've put links to the chosen books on Amazon if you want more information about them.  To choose the books, I checked out about 150 books from my local library and chose the ones that I thought suited my daughter the best.
I will likely jump around the different categories because some activities can only be done during specific times of the year.
Ecology
Watch Magic School Bus "Gets Eaten" – Food Chains (Season 1)
Watch Magic School Bus "Hops Home" – Animal Habitats (Season 1)
Watch Magic School Bus "Meets the Rot Squad" – Decomposition (Season 1)
Watch Magic School Bus- "All Dried Up" – Deserts (Season 1)
Watch Magic School Bus – ""In the Rain Forest" – Rainforest (Season 3)
Watch Magic School Bus – ""Gets Swamped" – Wetlands (Season 4)
Watch Magic School Bus – ""Goes to Mussel Beach" – Tidal Zones (Season 4)
Watch Magic School Bus – ""Family Holiday Special" – Recycling (Season 3)
Botany
Watch – Magic School Bus "Goes to Seed" – Seeds (Season 1)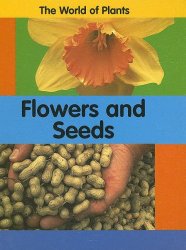 Watch – Magic School Bus "Gets Planted" – Photosynthesis (Season 3)
Watch – Magic School Bus "Goes Cellular" – Cells (Season 4)
Animal Kingdom
Watch – Magic School Bus "Cold Feet" – Warm and Cold Blooded (Season 2)
Watch – Magic School Bus "Butterfly and the Bog Beast" – Butterflies (Season 2)
Watch – Magic School Bus "Gets Ants in Its Pants" – Ants (Season 1)
Watch – Magic School Bus "Going Batty" – Bats (Season 2)
Watch – Magic School Bus "In a Beehive" – Bees (Season 3)
Watch – Magic School Bus "Spins a Web" – Spiders  (Season 3)
Watch – Magic School Bus "Goes Upstream" – Salmon Migration (Season 3)
Watch – Magic School Bus "Cracks a Yolk" – Eggs (Season 4)
Watch – Magic School Bus "In the City" – City Critters (Season 4)
Watch – Magic School Bus "Takes a Dive" – Coral reefs (Season 4)
Human Anatomy and Physiology
Watch Magic School Bus "Inside Ralphie" – Germs (Season 1)
Watch – Magic School Bus "Flexes Its Muscles" – Body Mechanics (Season 2)
Watch Magic School Bus "For Lunch" – Digestion (Season 1)
Watch – Magic School Bus "Works Out" – Circulation (Season 3)
Watch – Magic School Bus "Makes a Stink" – Smell (Season 4)
Watch –  Magic School Bus "In a Pickle" – Microbes (Season 2)
Earth and Space
Watch Magic School Bus "Gets Lost in Space" – Solar System (Season 1)
Watch – Magic School Bus "Out of This World" – Space Rocks (Season 2)
Watch – Magic School Bus "Sees Stars" – Stars (Season 4)
Watch – Magic School Bus "The Busasaurus" – Dinosaurs (Season 2)
Watch – Magic School Bus "Shows and Tells" – Archaeology/Rocks (Season 3)
Watch – Magic School Bus "Kicks Up a Storm" – Weather (Season 1)
Watch – Magic School Bus "Blows Its Top" – Volcanoes (Season 2)
Watch –  Magic School Bus "Wet All Over" – Water Cycle (Season 2)
Watch – Magic School Bus "Rocks and Rolls" – Water Erosion (Season 3)
Physical Science
Watch – Magic School Bus "Ups and Downs" – Floating and Sinking (Season 2)
Watch – Magic School Bus "Plays Ball" – Forces (Season 1)
Watch – Magic School Bus "Getting Energized" – Energy (Season 2)
Watch – Magic School Bus "In the Arctic" – Heat (Season 3)
Watch – Magic School Bus "Gets Charged" – Electricity (Season 4)
Watch – Magic School Bus "Gains Weight" – Gravity (Season 4)
Watch – Magic School Bus "Goes on Air" – Air Pressure (Season 4)
Watch – Magic School Bus "Revving Up" – Engines (Season 2)
Watch –  Magic School Bus "Taking Flight" – Flight (Season 2)
Watch – Magic School Bus "Gets a Bright Idea" – Light (Season 3)
Watch – Magic School Bus "Makes a Rainbow" – Color (Season 3)
Watch – Magic School Bus "In the Haunted House" – Sound (Season 1)
Chemistry
Watch Magic School Bus "Gets Ready, Set, Dough" – Kitchen Chemistry (Season 1)
Watch – Magic School Bus "Meets Molly Cule" – Molecules (Season 4)
Engineering
Watch – Magic School Bus "Under Construction" – Structures /Suspension bridge (Season 3)
Watch – Magic School Bus "Gets Programmed" – Computers (Season 4)